With three kids and a neurotic approach to keeping things tidy; toys (and more specifically, plastic crap) has been something I've fretted over for years. I'm basically a fun sponge. Our flat has duplo, lego, brio, soft toys, dinosaurs and one, constantly emptied 'everything drawer' which is where things on death row go. If I haven't seen it being played for three months; it's out.
When birthdays and Christmas approach we clear out anything that's not been played with for a while and take it to the charity shop or pass it to younger cousins. My relatives have been discouraged from big/noisy/ugly/tacky anything since I first gave birth.
The thing I can't bear about kid's toys is that inevitably the old plastic crap gets replaced with new plastic crap – same stuff, different year.
When I heard about Whirli I was a bit sceptical. I was worried that the toys would get lost or broken or would be old and battered, but I gave it a try. We started with a Toy Sack and have quickly moved up to the 'Toy Trunk' membership plan which is £19.99 a month and (after 3 months which are a bit like a probation period) has 180 tokens available per month.
The kids absolutely love browsing the toys and choosing their next swap – and Whirli day (when the new haul arrives) is like Christmas morning!
If we get something they don't end up liking then we can send it back early. Otherwise each load is returned in the box it came in (postage prepaid) and we choose more. It has changed my life for the better in so many ways. Here are five of them:
1. We have less stuff that we own.
I hate having too much stuff. By renting toys we can have all sorts of toys and enjoy them and then send them back when the novelty wears off. This means we can now have Peppa Pig, Paw Patrol, Marble Runs, Hey Duggee, Playmobil, Baby Yoda – you name it, I'm cool with it!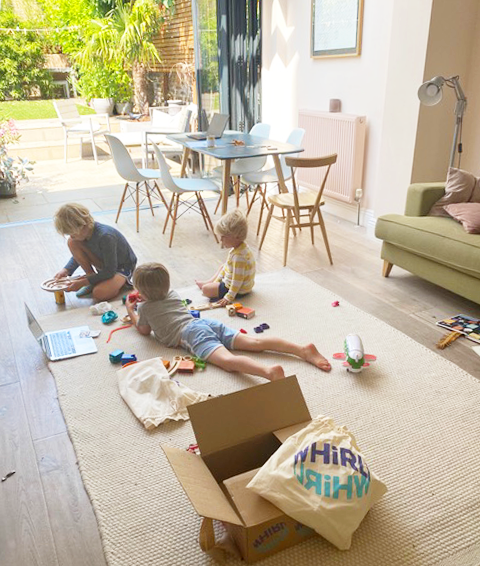 2. We look after things better
When you borrow things, you look after them really well. When some of your toys are borrowed and some aren't, it makes you careful about looking after things, all your things. So our belongings are being looked after too now!
3. We can get big toys that wouldn't fit long-term
While my sister thinks it's hilarious to pretend she's going to send a baby toy Land Rovers to drive around our flat, the truth is that we just don't have space for big stuff. When we're borrowing, I don't mind having an extra balance bike or wobble board which gets in the way for a few weeks but will be sent back before I kick it so hard that I break my foot and scream something sweary about needing a bigger flat!
4. Less Impact on the environment
This is mostly about packaging. I get overwhelmed with the packaging which toys bring. It's usually obscene amounts of plastic which simply isn't needed. I love that toy rental means the packaging has only happened once but loads of kids can use the toy.
Also, less stuff = less emissions.
Finally, Whirli takes toys out of boxes to send in bags. This means less weight and less bulk, so less emissions per delivery journey.
Triple win! The sharing economy makes so much sense from an environmental standpoint.
5. Money and time saved
This is more of an aspiration. I'd really like to cut the spending and time people allocate to buying stuff for the kids. It's unbelievably kind that they want to buy gifts, and my children love being thought of and receiving presents. But life has a lot on, and if they wanted to 'top up' the Whirli balance for one of the boys who could choose something to borrow themselves and no one has to wrap or send, then that feels like a really positive option and one I'll definitely try in the future.
Share this article