I may write about food for a living, but that doesn't mean my kids are perfect eaters. My son (4) eats a decent array of fruit and veg, but my daughter (2) is all about the rice and pasta right now. She's also asserting her independence at the dinner table with every two-year-old's favourite word: 'no'. Right now, the main goal is to make healthy foods a part of our routine. We have a weekly veg box, and the kids love seeing what's in it each week. I also gently encourage them to try new ingredients and become familiar with different fruits and vegetables by incorporating colourful and healthy foods into their play time. That can mean a teddy bear's picnic, a homemade pizza playdate or turning a cardboard box into a cafe. Here are five fun and easy ideas road-tested by my two Whirli fans…
1) Rainbow match up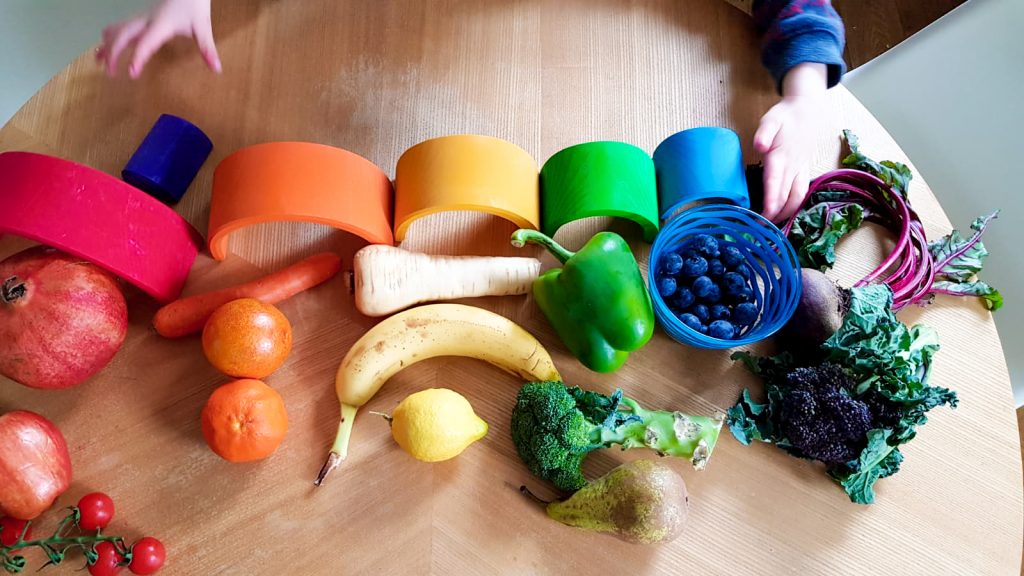 Little kids love lining things up: cars, dinosaurs, and – as it turns out – fruit and veg. Set up a quick game while you make dinner, using the Grimm's wooden rainbow and a colourful assortment of fruit and veg. Line up the rainbow, then ask the kids to sort the produce by colour. My kids treated it like a race, and the game sparked lots of debate (are blueberries blue or purple? What colour is a beetroot?). Encourage the kids to ask questions and describe the look and textures of the foods as they line them up. Incorporate some of the produce into their dinner: we made rainbow wedges with the beetroot, carrot and parsnips.
2) Wonky fruit and veg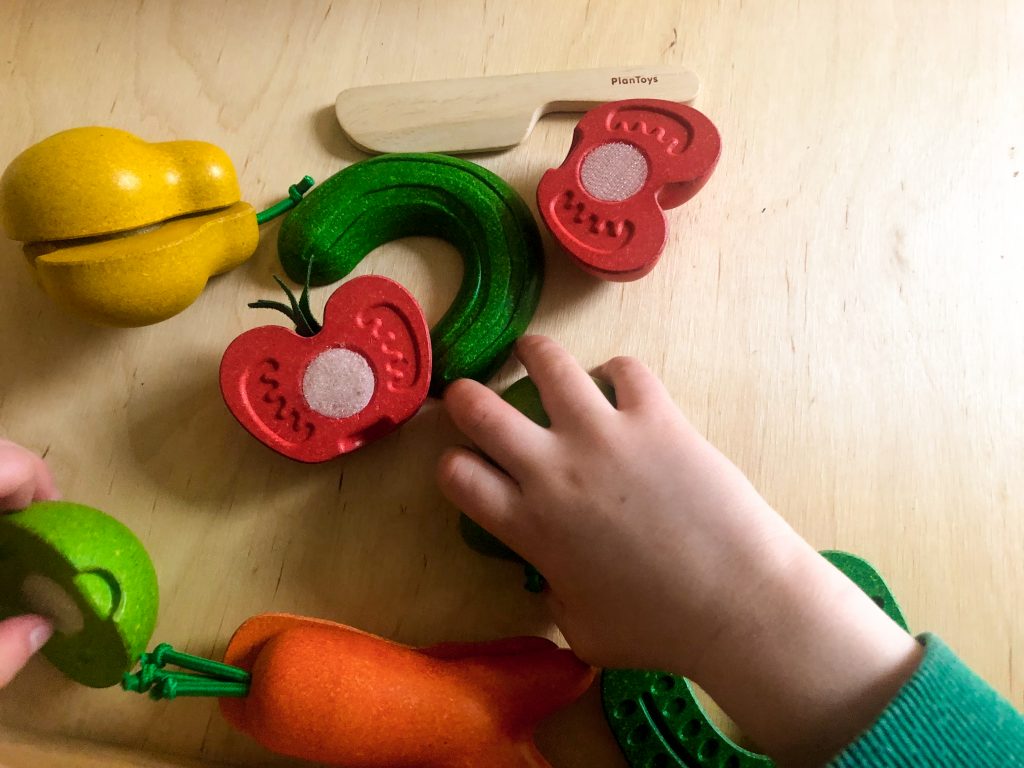 In the UK we throw away the equivalent of 1 in 5 shopping bags of food – which adds up to 6.5tonnes of wasted food per year*. Part of the problem is our quest for perfect veg. This is why I love the Plan Toys Wonky Fruit and Veg set. These gorgeous wooden toys include a bendy courgette, a skewwhiff pear and a misshapen carrot, plus a toy knife to practise slicing skills. Talk about the beauty of imperfection with your kids, and – next time you're in the supermarket, encourage them to look out for 'wonky' produce – several stores now offer bags of misshapen but just as tasty fruit and veg. My son likes the idea of 'rescuing them' and saving them from going to waste.
3) Play café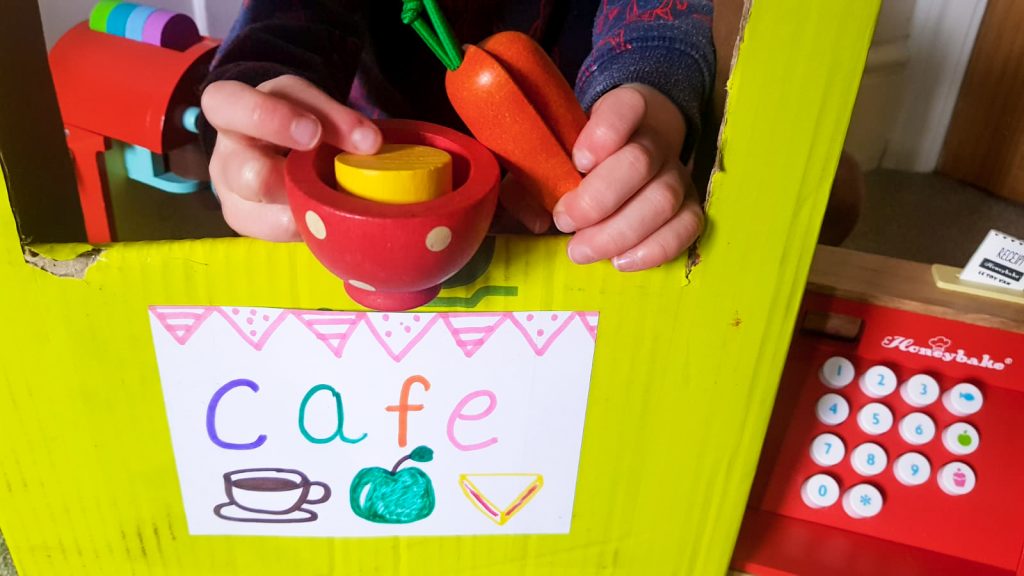 Turn a cardboard box into a café. No craft skills required: just cut a hole two-thirds of the way up to make a 'counter' and decorate the box with felt tips and a café sign. There's so much play value in a toy café. The kids can practise using the till and handling play money, take your order, play with different types of toy foods (include a mix of café treats, and healthy items, like toy fruit) and serve you, their friends or their favourite cuddly toys.
4) Kids and toys' tea party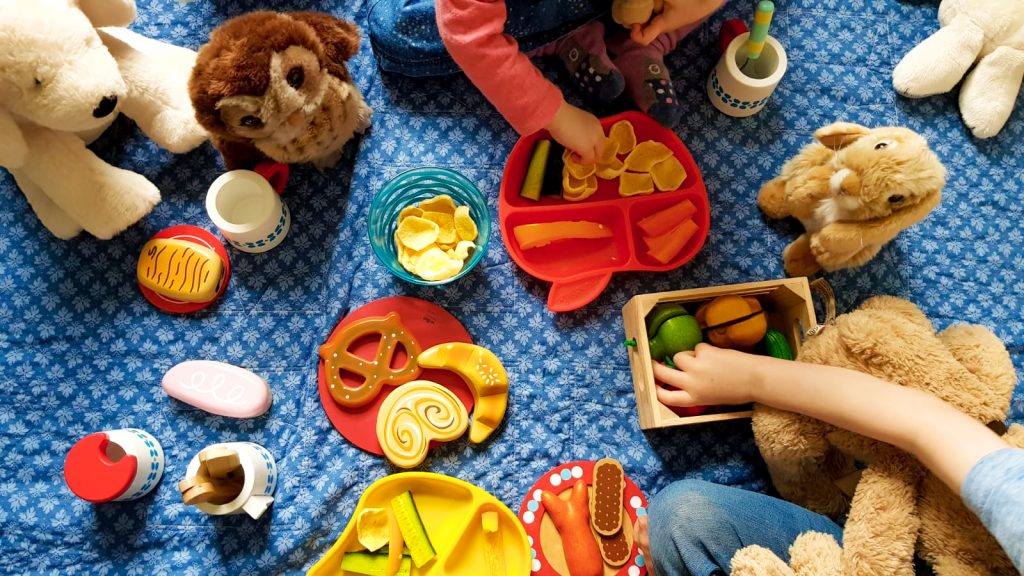 Get the kids to throw a tea party for their cuddly toys, with a twist – there's real food for the children, too. Lay out a mix of play fruit, veg and pretend treats, along with a tea set. Add some colourful snacks into the mix. Veggie sticks, wholemeal pitta strips, lentil crisps and cheddar cubes are all good options. They'll be so involved in their imaginative play; they won't notice that they're eating a healthy tea at the same time.
5) Pizza play date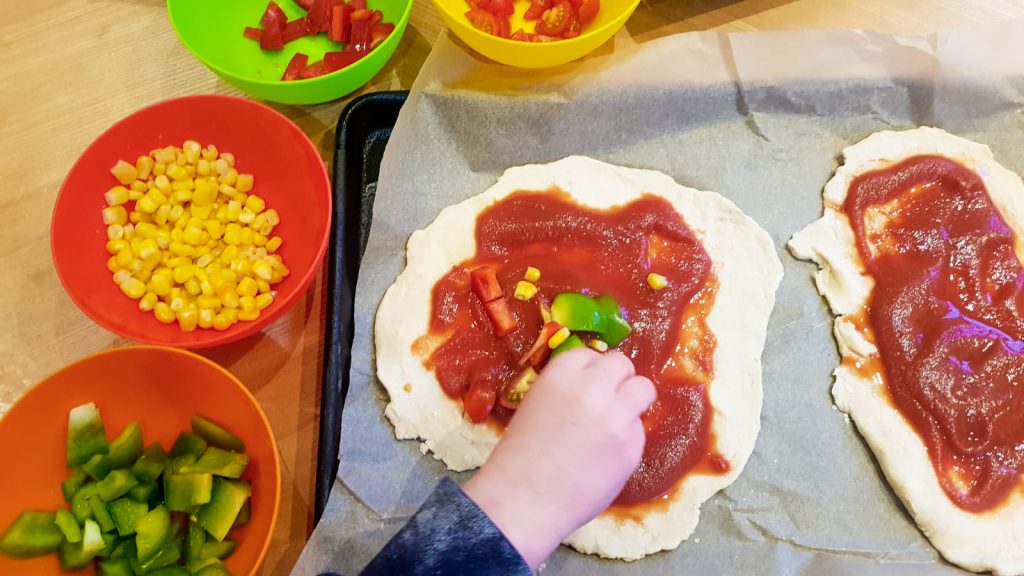 Two for the price of one: a fun activity PLUS a low-stress dinner. Next time your child has a friend round after school or nursery, set up some bowls with a variety of healthy toppings. Colour is key: think sweetcorn, peppers, courgette slices, cherry tomatoes and diced red onions. Let them smear the bases with passata and then sprinkle on the toppings. Use bought bases, or – better still – make your own. I like this recipe for a no-yeast dough from food writer Amy Sheppard. Because there's no proving time, you can make it together after school and shove the pizzas straight in the oven.
I hope these ideas encourage both you and your small humans to play with your food. Spend time cooking, creating and playing…and hopefully they'll be polishing off their broccoli before you know it.
Source:
Share this article