Is there a playgroup in your local area that could do with some extra love? Whirli's Save Our Playgroups programme is here to help.
Having a baby is a good way to turn your life upside down. It's a totally eye-opening experience that's full of happiness, as well as struggles. But what happens if you have a baby when the rest of the world is upside down?
We've been listening to your experiences of parenting in the pandemic, and we know that it's been hard. So we've been thinking about what we can do to make the transition back to 'normal' life as smooth as possible. From our conversations, there were two things in particular that stood out:
We all want to find joy where we can, and play is a great place to start.
We're all desperate for some human connection!
So we've come up with a plan to support local communities coming together through play. Here's what our new programme, Save Our Playgroups, is all about.
Why playgroups?
When we surveyed our Whirli community, we found that 60% of parents attend a playgroup.
Since attending a playgroup benefits both kids and adults, it's not hard to see why they're so popular.
Playgroups offer babies and young children more variety in their playtime and the chance to interact with other children their own age. This helps to develop a range of skills, including:
Crawling, sitting and rolling (physical development)
Face-to-face interaction and non-verbal skills (language and literacy development)
Recognising sounds, their name and tone of voice (sensory development)
Recognising objects and people (emotional and social development)
Recognising and identifying objects (cognitive development)
Equally important is the social interaction on offer for parents and carers. The first few years of your child's life can be full of joy and excitement, but they aren't without their challenges.
Spending a lot of time at home caring for a newborn or young baby can be isolating, so playgroups offer parents a chance to get out of the house and have some much needed adult conversation (and, as one of our Instagram followers pointed out, snacks).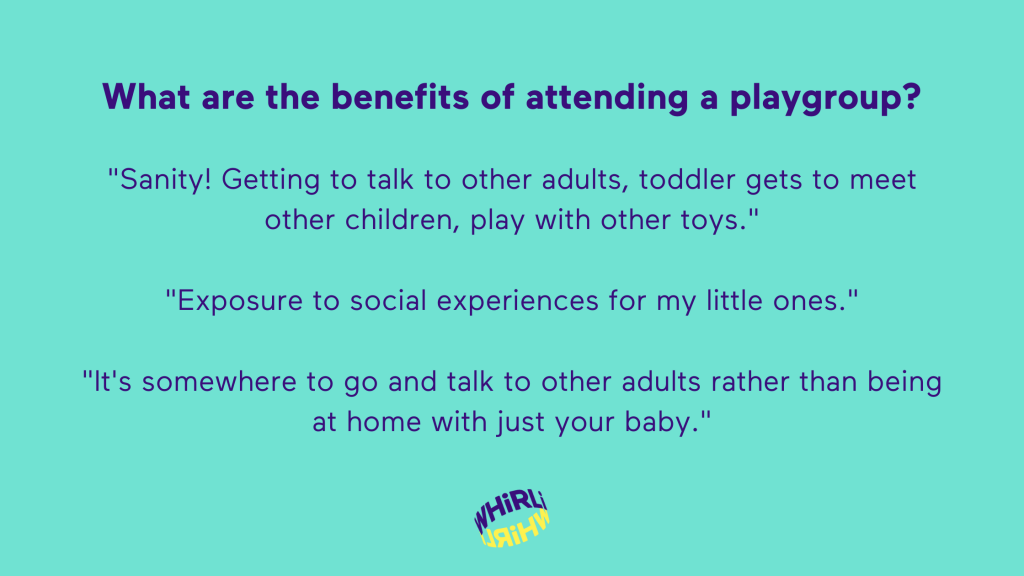 How have playgroups been affected by the pandemic?
However, like many local communities, playgroups have been hit hard by the pandemic. 91% of the parents we polled said that their local playgroups had been affected by Covid. In lockdown, playgroups were forced to close their doors, and many didn't recover from this. For those that did survive, outbreaks of the virus have seen lots of playgroups trapped in a constant cycle of stopping and starting, affecting their ability to stay afloat.
When we spoke to playgroup organisers, they reported that they are struggling to find spaces to host sessions post-lockdown, due to increased demand and the necessity of facilitating covid restrictions, like social distancing and ventilation. While the priority is, of course, keeping everyone safe, these restrictions do affect how attendees experience the sessions.
Spaces are limited and parents are required to book in advance, making it much harder and more stressful to go to a playgroup. Furthermore, social distancing defeats one of the main purposes of playgroups, which is to allow kids to mingle. All of this means that playgroups are having trouble retaining old members, and attracting new ones.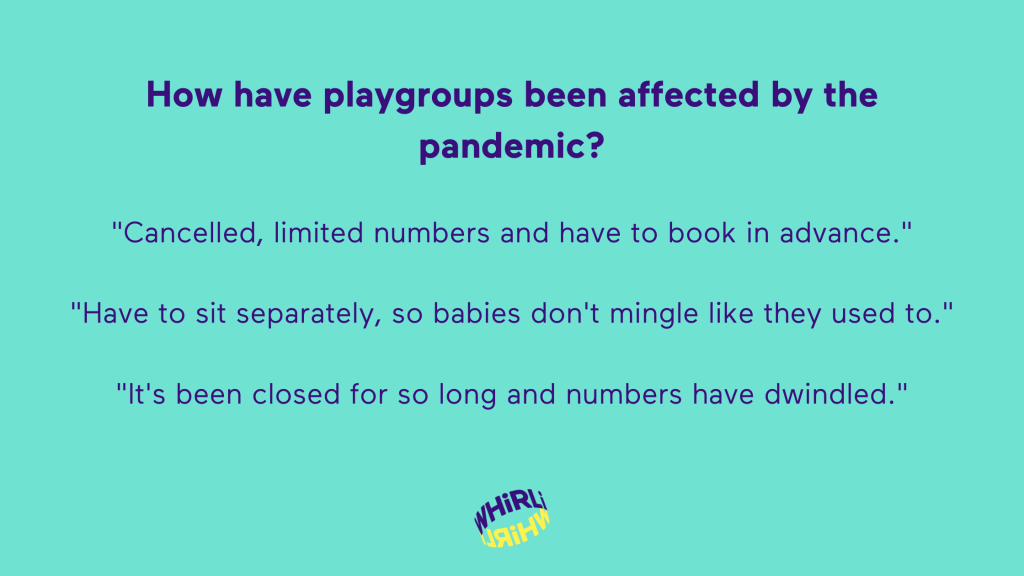 How were new and young parents affected by lockdown?
When we asked our community about their experiences of having children during the pandemic, there were some mixed responses.
While lockdown wasn't easy on anyone, and certainly not new parents, some people pointed out that this period had given them more time with their new families, and made it easier to get little ones into a routine.
However, the majority faced huge difficulties having and bringing up a child during the pandemic. While their new arrivals brought them so much joy, it was sad not to be able to share this joy with friends and family. Many experienced loneliness and isolation; feelings that can be a normal part of parenthood at the best of times, which were exacerbated by the pandemic.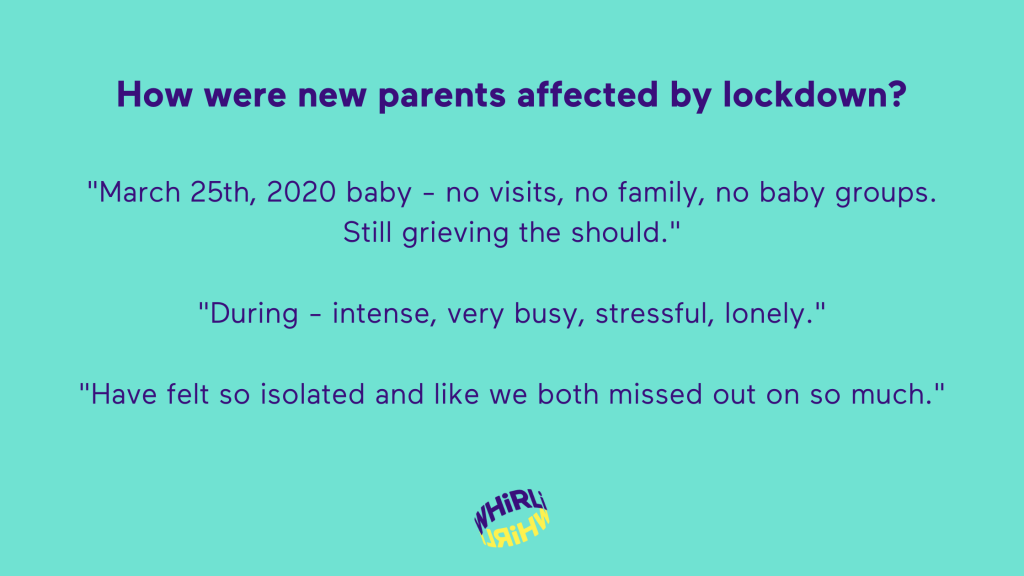 How are parents coping post-lockdown?
Even now restrictions are lifting, parents are struggling to adjust back to 'normal' life and are still dealing with the aftermath of lockdown. Many people we spoke to said that they felt a huge sense of loss and grief over all the milestones and experiences they missed out on due to the pandemic, since they'll never get those precious early years back.
Re-socialising following this disruption to our lives is also proving challenging; 29% of people we spoke to don't currently attend a playgroup, but would like to.
One of the main barriers they face is simply finding a suitable playgroup in their area. As we have seen, lots of playgroups have been forced to close down, but for those that remain open, spaces are limited. This means that private playgroups (that aren't government funded or volunteer-run) have put prices up in line with rising demand.
Secondly, lockdown isolation has had long-term effects on parents' and children's confidence. They feel self-conscious about "parenting in public" and worry about how their child will behave around others. Add to that lingering cautiousness over Covid safety and fitting it into their baby's routine, and the experience of going to a playgroup can become stressful.
Thirdly, it's simply too late for lots of mothers who spent their maternity leave in lockdown, and are now back at work.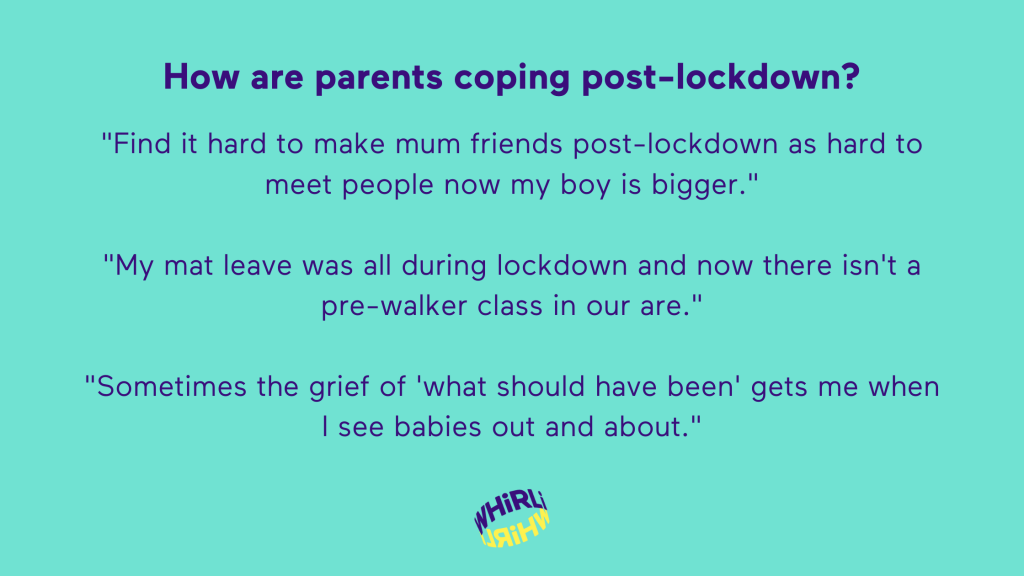 What is Save Our Playgroups?
After speaking to playgroup organisers and parents, we realised that there was something we could do to help playgroups get back on their feet and encourage parents to attend them: give them toys!
In fact, toys were one of the main draws for attending playgroups when we conducted our research.
So we've launched a sponsorship programme called Save Our Playgroups, which will offer free, six-month Whirli subscriptions to playgroups across the country. Playgroups can cut costs and attract members, while parents and their little ones can enjoy a wider variety of toys than they have at home.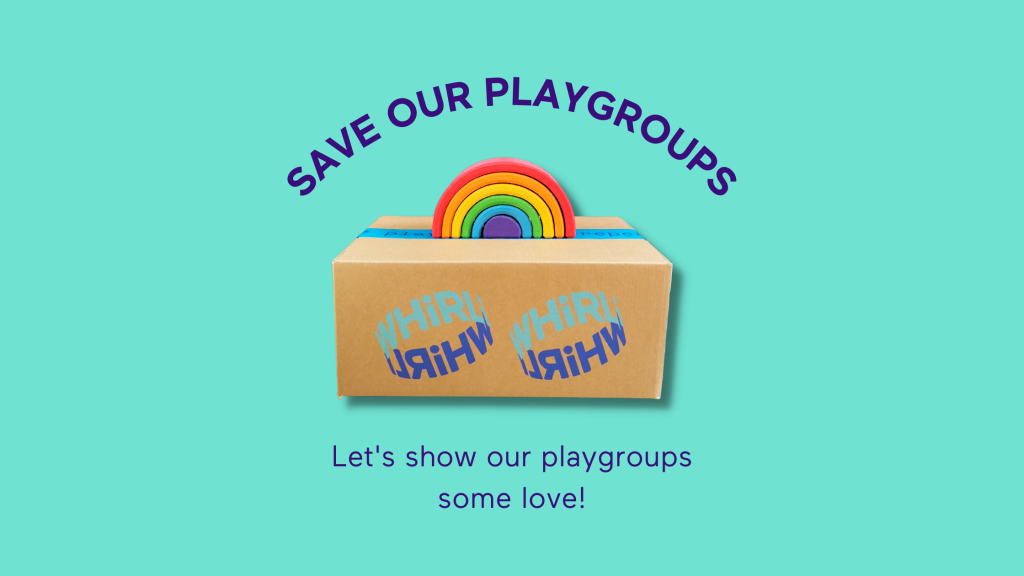 Through Save Our Playgroups, we hope to bring local communities together again and make sure that these pillars of our society keep going strong. And to achieve our mission, we need your help!
If there's a playgroup in your local area that deserves some extra support, you can nominate them for a free, six-month Whirli subscription here.
We have a limited number of sponsorships available to begin with, but we also hope to encourage more support for playgroups by making some noise about them. So if you feel the same, share this blog post with your friends, family and followers to spread the word, and help #SaveOurPlaygroups.
Share this article