Feeling overwhelmed by the amount of toys that go to waste in your home? You're not alone. Check out these surprising statistics on toy neglect and learn how to reduce waste in 2022.
The holidays are a time for treating ourselves and the people we love, which is all part of the magic of Christmas. However, come January, a lot of us begin to feel uneasy about all that indulgence and excess, vowing to make some changes for the year ahead.
If you're a parent, there's one thing in particular that's likely to be on your mind — and coming out of your ears — right now: toys. Naturally, toys are a go-to present for kids at Christmastime. However, there are only so many storage bins you can squeeze into your home, and only so many toys that can hold your little ones' attention. The result? Unwanted and unloved toys…everywhere!
Not only does the clutter drive you mad, but it's also a huge waste of time, money and energy to buy toys that don't get played with. On top of this, unwanted toys tend to end up in the landfill, which, considering how many toys are made from plastic, isn't good for the environment at all.
The problem is, most of us don't think about toy clutter until it's staring us in the face. As with many other aspects of parenting, we're not prepared for it! So at Whirli, we're on a mission to raise awareness about toy neglect and improve playtime for everyone.
We're passionate about the circular economy and zero waste living, so we decided to ring in the new year with some tips to help your family live more sustainably in 2022. Before we get to those, let's look at the facts around toy neglect.
10 facts about toy neglect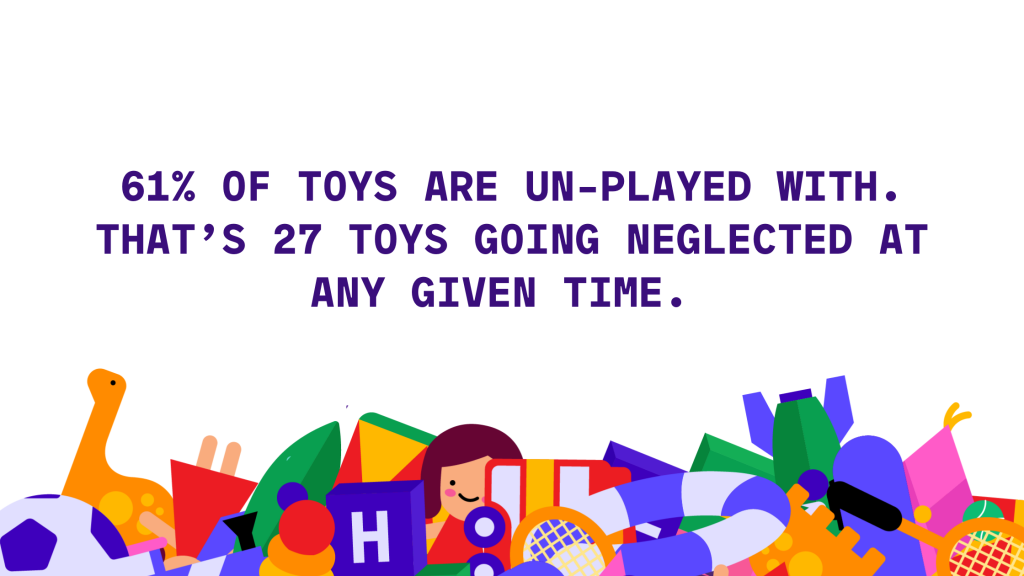 We interviewed over 2000 parents to better understand our habits around toy consumption. Here's what we learned about the realities of toy neglect.
Perhaps unsurprisingly, the majority of parents think their kids have too many toys. We spend a lot of money on toys, and the clutter is piling up as a result.
69% of parents say that their children have too many toys.
Parents estimate that they spend an average of £250 per child throughout the year on toys, and children receive over 30 toys each year. On average, parents will spend up to £25 on a toy as a gift for someone else's child.
77% of parents say that toys are cluttering up their homes. 1 in 7 parents feel this toy clutter is out of control.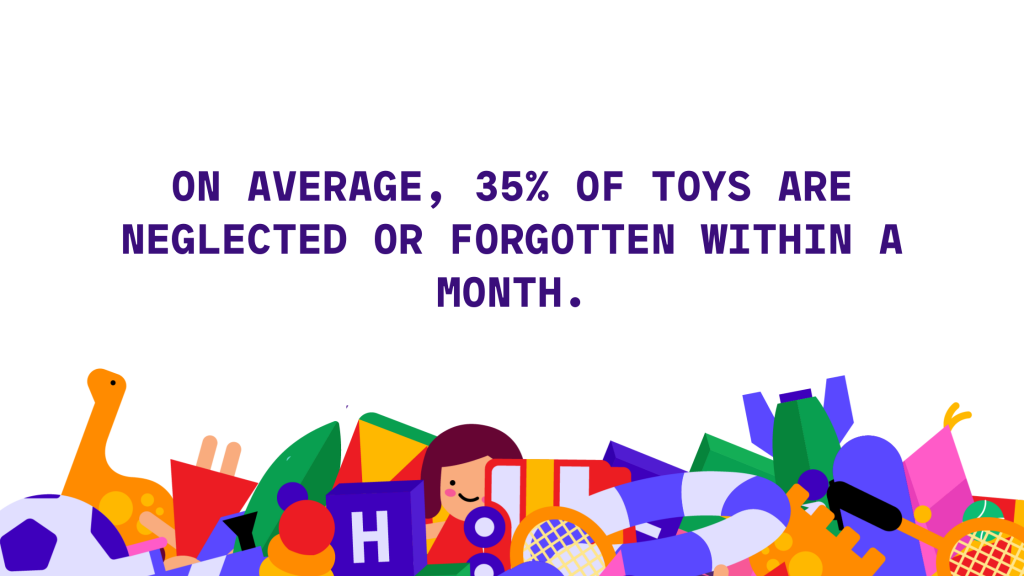 The reason this feels wasteful is because most of these toys either don't get played with at all, or they're quickly forgotten about — and the following stats probably will surprise you.
In total, 61% of children's toys are un-played with. That's 27 toys going neglected at any given time.
On average, 35% of toys are neglected or forgotten within a month.
Parents estimate that 15% of toys their kids receive for Christmas are neglected within a matter of days. Within one month, this increases to 23%, then 50% within 6 months.
So why do so many toys go to waste? Part of the problem is other people getting it wrong, but even parents struggle to choose toys their own kids will like.
The most common reason for unwanted gifted toys is gender stereotyping. More than a quarter received 6 presents of this kind in a year.
71% of parents choose toys based on their or their partner's taste, rather than their child's.
Lastly, we all feel that something's got to change; we're wasting our money and harming the planet through our toy consumption habits.
56% of parents think high street prices for toys are too high.
52% feel packaging for toys is excessive.
So what can we do to reduce waste?
Don't worry, it's not all doom and gloom. A new year is the perfect time to reassess our values and kickstart new habits. Luckily, there are plenty of ways parents can stop toy neglect, save money, cut down on clutter and reduce waste.
This mindset goes far beyond toys, so we've also included other areas of life where you can make meaningful changes. To make sure you're off to a flying start, we've partnered with four of our favourite waste warriors to bring you some exclusive offers.
3 ways to reduce waste in 2022
Toys: swapping is the new shopping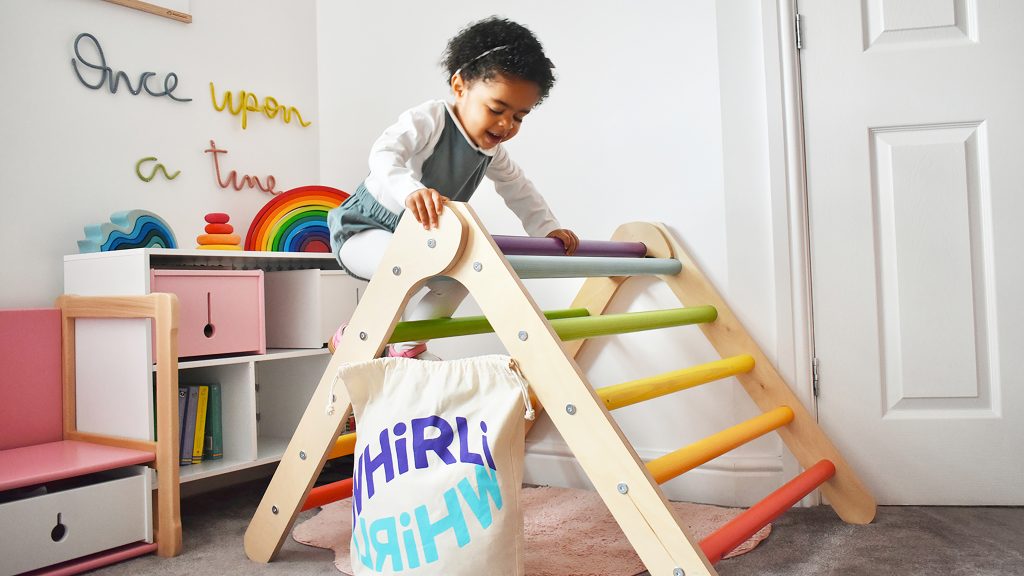 As we've seen, constantly buying your children new toys creates an endless cycle of wasted money and clutter. To break the chain, choose swapping over shopping.
We created Whirli as an affordable and sustainable alternative to owning toys. When you become a subscriber, you get access to our library of over 1000 must-have toys. Your subscription plan will give you a token allowance that lets you borrow toys for however long you like, then send them back and swap them for something else if your child loses interest.
Not only can you cut down on toy clutter, but you also get to play with toys you might not be able to buy at retail price, with lots of guidance on the best toys for your age group. If your child doesn't like a toy, somebody else's child will, and no one wastes any money or sends more plastic to the landfill. A win-win all round!
Sign up to Whirli here.

Clothes: wave goodbye to fast fashion
Kids grow at an alarming rate, so in addition to toys, they go through clothes like there's no tomorrow. Keeping up with their wardrobe needs can take a toll on your wallet, and then there's the environmental impact of fast fashion.
The good news is that we're now seeing a rise in thoughtful brands who are on a mission to reduce waste.
Babies outgrow seven clothing sizes in their first two years — that's pretty alarming when you consider that just one babygrow takes 250 litres of water and 2kg of carbon emissions to produce. A study found that 180 million pieces of outgrown baby clothing are cluttering up UK homes, and first time parents spend an average of £997 on baby clothes in the first year alone.
This is where renting, rather than buying, saves the day once again. For parents with very little ones, Bundlee is a subscription service that lets you rent your baby's wardrobe and swap clothes as they grow. Their model saves 86% of the CO2 and 96% of the water usage in comparison to buying new baby clothes (and saves you money too!).
Try Bundlee
Get 50% off your first month when you sign up to Bundlee using the code below.
Code: WHIRLI50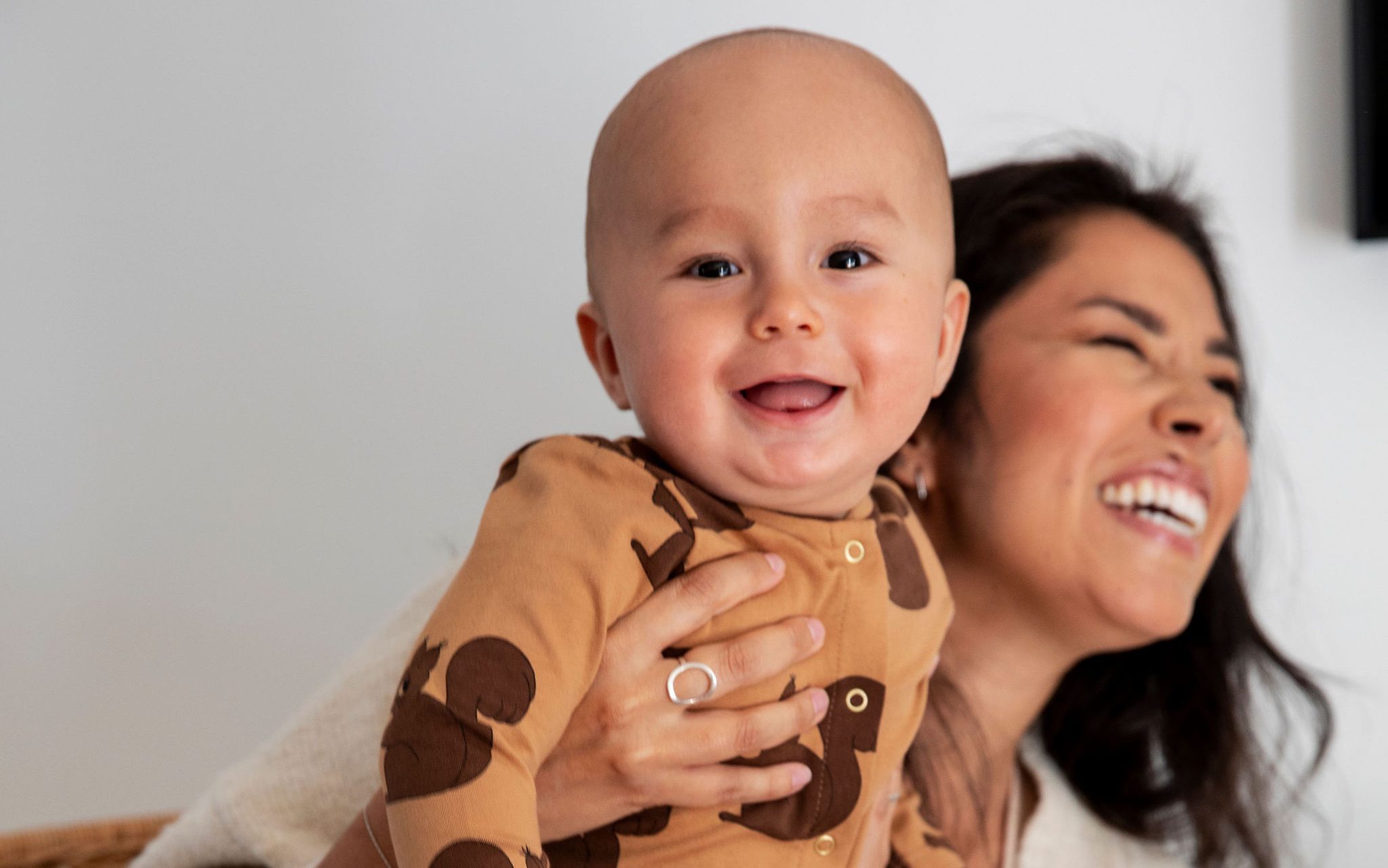 Then there's Dotte, the UK's first fully circular marketplace for kids clothing. Their goal is to overcome the toxic addiction that is fast fashion.
As humans, our brains are hardwired to seek out the newest, shiniest thing. This typically looks like a trip to the high street or a quick 'add to basket' moment. But the reality of all that newness is pretty bleak.
In the UK, the carbon footprint of new clothes bought every minute is greater than driving a car around the world six times (Source: Oxfam). It's also estimated that more than 50% of fast fashion is chucked in the bin in under a year (Source: Ellen MacArthur Foundation).
When there's already so many great clothes that have already been made (and loved), Dotte suggests shopping "new to you". With shopping second hand, you get that immediate pleasure of bagging a bargain, without the long term guilt.
What's more, reseller platforms offer the missing ingredient in online shopping for fast fashion: connection. Finding a community of like-minded people brings the human emotion (the joy!) back to shopping.
Try Dotte
Kick your fast fashion habit today and discover something "new to you" on Dotte. You can get £5 cashback on your first purchase, when you sign up using our exclusive discount code.
Code: WHIRLIJAN
Food: go zero waste
Food production and food waste play a huge role in climate change — something, as parents, we feel increasingly worried by. However, trying to shop ethically and sustainably in the average supermarket is difficult. Let's face it, poring over every ingredient list or working out which product has the least packaging ain't easy when you've got a screaming toddler strapped into your trolley.

That's where Good Club, the online zero and low waste grocery store, does the legwork for you. Their mission is to help everyone live more sustainably, by providing carefully sourced groceries and household items straight to your door.
Their zero waste products are delivered in returnable, reusable and BPA-free pots inside a returnable, reusable box, completely cutting out single-use plastic and packaging. With 350+ of zero waste items and 250+ lightly packaged products, you can get all of your household staples with carbon-neutral delivery and collection — helping you reduce waste, and cut down on plastic and CO2.
Try Good Club
Get £15 off your first order when you sign up to Good Club using the code below before 31st July 2022.
Code: WHIRLIXGOODCLUB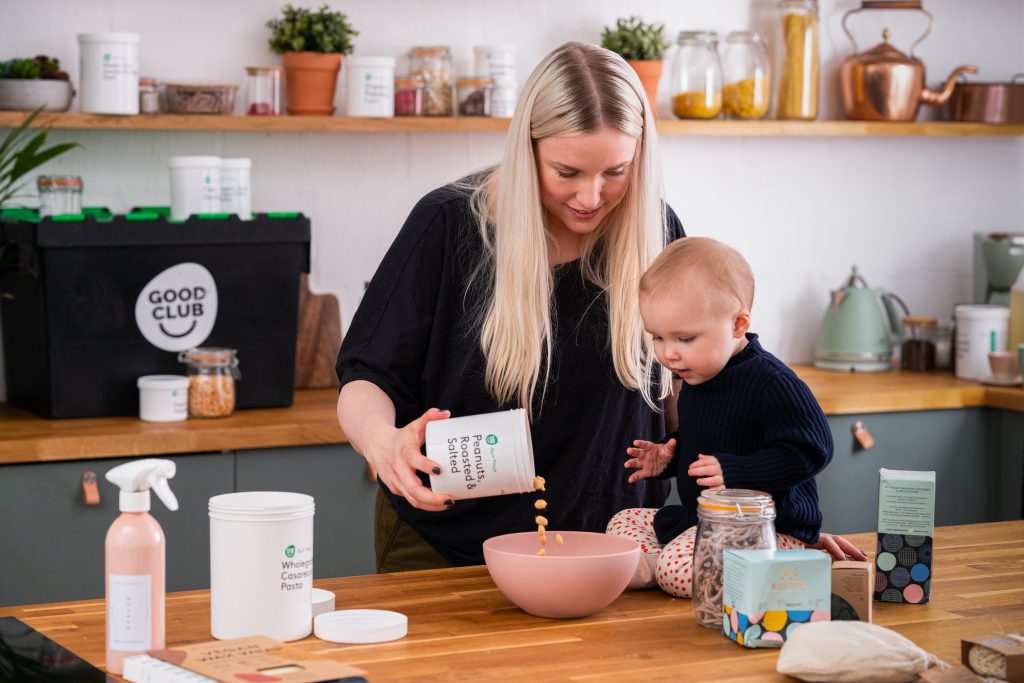 When it comes to making sure your family gets their five a day, Oddbox is another fantastic option to fill your belly and save the planet. Over 40% of all food grown goes uneaten, wasting a huge amount of CO2 and water in the process.
Oddbox rescues delicious, fresh fruit and veg that may otherwise have gone to waste. They pick it up directly from farmers, then deliver it to your front door in a weekly or fortnightly subscription.
Try Oddbox
If you want to reduce your impact on the planet by taking action on food waste, join Oddbox's mission and get 50% off your first box using the code below at checkout (offer ends 31st March 2022).
Code: WHIRLI
One step at a time
Of course, we're just scratching the surface of all the different ways we can reduce waste in our daily lives. However, it's important to remember that you're only human, and you're just one person.
When trying to live more sustainably, it helps to focus on one or two areas of your life and make small, incremental changes that all add up in the long run.
We hope that this guide will give you the inspiration you need to live that little bit greener in 2022. As always, we'd love to get your opinions and perspectives.
What changes are you making for the New Year and how does your family do its bit for the planet? Our email inbox and DMs are open.
Share this article