Struggling to find sustainable Christmas presents? Need some inspiration for eco-friendly gift wrapping? We've got you covered in this ultimate guide to having a green Christmas.
As a toy company, we know that Christmas is one of the most magical times of year for families with little ones. However, it's also one of the most wasteful (and often stressful) times of year.
It's natural to want to create special memories for your children around Christmas. You try to give them the best of the best, so you rush out to buy the latest toys to put under the tree. Yet how many times have you found those same toys forgotten under the bed come January?
According to research we conducted among parents, an estimated 23% of Christmas toys are neglected within one month. This is around five toys per child and the equivalent of 32 million toys across the UK. After three months, it's estimated that the number of Christmas toys neglected increases to 40%.
And we adults are just as guilty of chucking away unwanted presents (no offence, Uncle Bob). Not to mention festive food waste and wrapping paper — let's face it, it's not fit for repeat use once a five-year-old has torn into it!
Welcome to Whirli's Green Christmas guide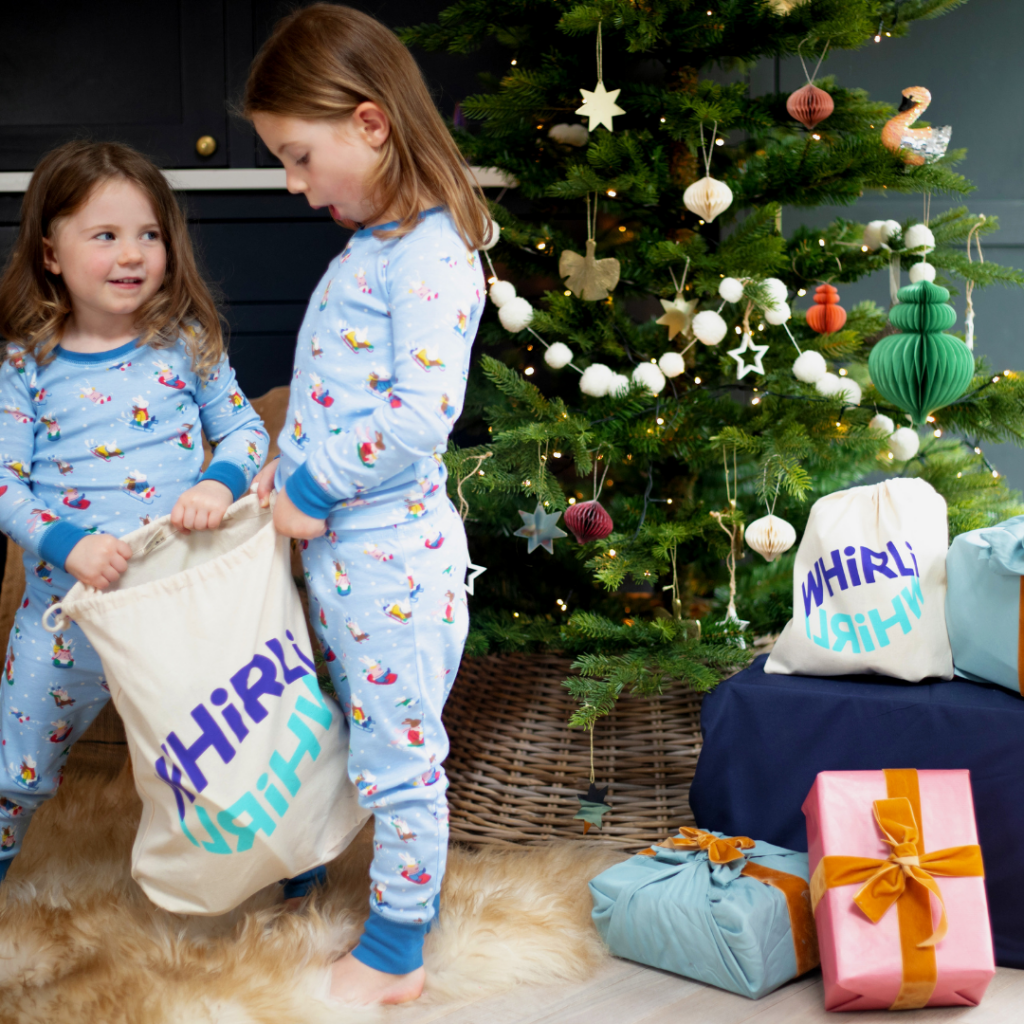 That's why we've put together the ultimate Green Christmas Guide, which we've compiled with three things in mind:
We want to challenge the mindset that Christmas means "stuff". We think it's important to question our habits as consumers during the festive season, when brands are capitalising on our need for shiny objects. So we've included some alternative options to physical presents.
When we are giving physical gifts, we strive to reduce waste and cut down on plastic by shopping with eco-friendly brands.
By introducing our loved ones to greener alternatives to their favourite things, we hope to spread that warm and fuzzy, waste-free feeling.
Our Green Christmas Guide is packed full of ideas for sustainable gifts for kids and parents, as well as some tips to help you reduce waste during the festive season. We hope it helps you have a greener, but no less magical Christmas.
Contents
Green Christmas gifts for kids
Green Christmas gifts for parents
Ways to reduce waste this Christmas
Green Christmas gifts for kids
Toys
Borrow toys from Whirli
If you're already a Whirli customer, Christmas is a great time to make the most of your subscription. Parents spend an average of £135-150 per child on Christmas toys — and they don't come with a guarantee on how much your little ones will want to play with them.
So instead of trekking around the shops this Christmas, why not borrow toys from Whirli's library? You can still give your children the toys of their dreams, but with one important difference: you can swap them for something new at any time. Plus, we've got toy sacks to rival Santa's! Just make sure to order your toys before 20th December to get them in time for Christmas.
Sign up for a Whirli subscription here from £9.99 a month. Browse our toy library here.
Buy toys from Whirli
If you're not a Whirli customer or you'd like to give a Whirli toy to someone who isn't a customer, you can buy a toy from us rather than renting it. Just in case someone's enthusiasm wanes (!), all gifted toys come with a gift card that can be turned into Whirli credit, ready to start swapping. They can redeem the gift card and spend the credit on a subscription, then swap the toy for something else. Otherwise, the toys can be kept forever.
Choose Whirli toys to gift here.
Clothes
Baby Mori
For those with budding fashionistas, we love Baby Mori's clothing ranges for babies and kids. Baby Mori combines ethically sourced, organic cotton and bamboo to make the softest fabrics, which are kind to your baby's skin and the planet. Careful craftsmanship means their clothes are designed to last, so they can be worn and passed on again and again. For an extra special green Christmas present, check out their personalised gift range.
Shop Baby Mori here.
Eco Alf
Catering to a slightly older age range, Eco Alf makes kids clothing from recycled PET (polyester). This reduces water consumption by 20%, energy consumption by 50%, and CO2 emissions by 60%. They also run a nonprofit organisaton called the Eco Alf Foundation. They work with the fishing industry to clean the oceans of marine waste and to give a second life to plastic waste through recycling and closing the loop. We love their slogan tees for mini eco warriors.
Shop the Eco Alf kids range here.
Play
WEARTH
Wearth is an online store of curated eco-friendly and ethical brands, making it easy to shop according to your values. We love their "Gifts for little ones" edit, where you can discover lots of fun gifts for kids. Activity sets, like this seed pack by Sprinkles Creations UK, make the perfect green Christmas stocking fillers, as well as providing engaging ways for your little ones to learn about nature.
Shop WEARTH's gift edit here.
Lush
Festive bath bombs from Lush are a surefire way to make washtime fun. Lush is built on ethical business and fair trade, which includes their environmental policies. Their products are made from thoughtfully selected raw materials and natural ingredients, and their packaging is made from 90% recycled materials. We're big fans of their cute and playful Christmas gift sets.
Shop Lush's range for kids here.
Rowdy Kind
Speaking of splashing around, meet Rowdy Kind. They're on a mission to create a better bathtime: better for kids' skin and better for the planet.
Handmade in the UK using the highest quality ingredients, Rowdy Kind's unique formulations are made specifically for kids' sensitive skin. The range includes: the bestselling 'Hair & Everywhere' bars, shampoo and conditioner bars, and even a plastic-free bubble bath and moisturiser. Rowdy Kind bars are sulfate, paraben and PEG free, and perfectly pH balanced.
The entire Rowdy Kind experience is plastic free. Not only are the bars zero waste, their cleansing, conditioning and moisturising bars save two plastic bottles each. All of their ingredients are ethically sourced, cruelty free, and vegan. Plus the minimalistic shipping packaging is 100% paper and fully recyclable.
Join Rowdy Kind in raising the bath bar for the next generation and get 10% off full priced products for the month of December 2021 using the code WHIRLI10 at checkout.
Experiences
Little Cooks
Experiences are the gifts that keep on giving. Activities make for exciting and memorable presents that can give the whole family shared moments of joy. A subscription to Little Cooks is the perfect way to get kids having fun in the kitchen, teaching them about cooking and real food in the process. All of their ingredients are organic and free from refined sugars, flours and anything artificial. Packaging is compostable and recyclable, and each box bought pays for a vulnerable child in the UK to attend a Healthy Holiday Club with Feeding Britain. Bon appetit!
Gift a Little Cooks subscription here. Get 50% off their first kit using the code WHIRLI50 at checkout until 31st January 2022.
Go Ape
Go Ape offers treetop adventures for kids aged four and above in a range of locations across the UK. They're on a mission to encourage everyone to live life adventurously, while being socially and environmentally responsible, and always doing the right thing. Values we can get behind! Activities like tree climbing and zip wiring can help build kids' confidence and nurture a love of the great outdoors. Bonus points if you're brave enough to get up there with them.
Gift an experience with Go Ape here.
Adopt an animal with WWF
The WWF's adopt an animal scheme makes a fantastic gift for kids. Funds go to species protection projects across the world, and your child can learn about conservation and the environment in a meaningful way. Kids get a fun welcome pack with a cuddly toy and receive updates on their animal three times a year — another gift that lasts well beyond Christmas.
Adopt an animal here.
Green Christmas gifts for parents
Practical
A subscription to Whirli
It's not just kids who benefit from Whirli! If you know any parents who could use some decluttering, money-saving and greener habits, you can buy them a Whirli gift card for your chosen amount. They can then redeem the gift card against their subscription cost. Trust us, they'll thank you.
Buy someone a Whirli gift card here.
Bundlee
Bundlee's baby clothes subscription is the perfect gift for a sustainably-minded new parent or parent-to-be. After all, babies outgrow seven clothing sizes in their first two years, and most gifted clothes are outgrown before they are even worn… but not with Bundlee! When you gift Bundlee, parents can activate their subscription whenever they are in need of clothes and, ta-dah, a set of premium baby clothes will arrive at their home. And just like magic as their little one grows, they simply swap their set for the next size up.
Gift Bundlee here.
the little loop
For kids that are a little older, thelittleloop lets you rent clothing from sustainable and organic brands. Did you know that renting instead of buying their clothes can save up to 80% of the carbon and water footprint of buying new? Not to mention all of the waste. For guilt-free Christmas presents, check out their gift cards to recruit more pioneers for the rental revolution!
Shop the little loop here.
Who Gives A Crap
Toilet paper might seem like quite a weird Christmas present. That's until you've discovered Who Gives A Crap. Their mission is to ensure everyone has access to clean water and a toilet within our lifetime, and they donate 50% of their profits to make that happen. On top of that, they're B Corp certified and make their toilet paper from bamboo, recycled and forest friendly paper.
To cut down on plastic and stay hygienic, Who Gives A Crap individually wrap each of their loo rolls. Ideal for Christmas, which is why they've launched a limited "give" edition featuring artist-designed patterns — not only can you gift the rolls, but you can also reuse the paper to wrap other presents.
Shop the Who Gives A Crap Give Edition here.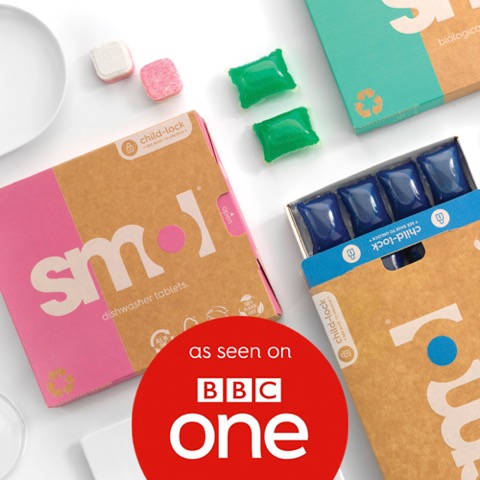 smol
Know someone who puts Mrs Hinch to shame? They'll love smol, the eco-cleaning brand founded on the belief that you don't have to sacrifice performance or spend a fortune to clean green. They designed the first 100% plastic-free packaging for laundry capsules and dishwasher tablets, and make surface sprays using refillable bottles for life. In addition to reducing plastic waste, they're cutting down on chemicals by formulating super-concentrated products (that's why they're "smoller" than your average).
Signing up for a subscription is mega-flexible and mega-convenient. Just answer a few questions to determine how often you need your pack of 24 capsules delivered to your door. No contract, no commitment; you can cancel at any time.
Order a trial pack of 9 free washes for just £1 to cover the cost of the postage, then get 50% off your first pack using the code WHIRLI4 at checkout.
Shop smol here.
Herd
HERD bags are for people that need to carry stuff — whether for themselves or others! Made from recycled plastic and sturdy cotton handles, HERD bags are practical, durable and stylish. Choose from punchy designs that have been described as "the fabulous love child of Henri Matisse and Luis Barragan" (we had to Google Luis too). For each bag sold, they fund 1kg of ocean plastic clean-up.
Shop HERD bags here.
Self-care and treats
Kankan
Haven't you heard? Single use plastic in the bathroom is over! Kankan is the body wash brand making refills mainstream. Their body washes are vegan and free from sulphates, parabens, silicone, palm oil and artificial ingredients, and scented with relaxing natural essential oils. You buy a starter kit containing a Forever Bottle, which you can fill up when you need to, using their recyclable refill cans. This year, they've teamed up with other brands on Christmas gift sets for every family member, friend or work Secret Santa.
Shop Kankan here. Get a free pack of Kankan Christmas cards, designed by Supermundane, with your purchase using the code WHIRLI KAN at checkout.
Little Herbs
Perfect for new mums, Little Herbs botanical skincare is founded on the principle that we should use the natural ingredients that surround us. Their 100% organic products for mums and little ones use traditional English country garden plants, seed oils, honey and beeswax, and nothing else. Made in Frome, Somerset, all of their products come packaged in glass or lined aluminium tins, both of which can be recycled.
Shop Little Herbs here.
By Rotation
If you know any eco-conscious fashion lovers, a gift card from By Rotation is guaranteed to be a hit. By Rotation is a fashion rental app that lets you discover and borrow designer fashion at a fraction of the retail price. Their goal is to cut down on textile waste and transform the way we consume fashion, empowering you to do good for your wardrobe, your wallet and the planet at the same time.
Get 15% off all purchases with a minimum spend of £20 using the code WHIRLI15 at checkout.
Buy a By Rotation gift card here.
Waken
Mouthwash might not immediately spring to mind when it comes to Christmas presents, but we love new kid on the sustainability block, Waken. Created by the founder of Bulldog Skincare, Waken provides an eco-friendlier alternative to traditional plastic- and chemical-heavy mouthwashes, toothbrushes and toothpastes. Their vegan essentials are made from botanical extracts and come in chic, reusable or recyclable packaging (their mouthwash is also carbon neutral certified). Their Christmas gift sets are the perfect stocking fillers to make someone smile. Although we advise reassuring your loved one that their breath smells fine!
Shop Waken's Christmas gift sets here.
Wild
Similarly, deodorant may not be your usual go-to for Christmas gifting, but Wild is another game-changer. Firstly, their all-natural deodorant formulas actually work, and come in delicious scents to make your morning underarm routine a little less boring. Secondly, they've cracked the sustainability code by making deodorant refillable; simply buy one of their sleek aluminium cases, then get refills delivered to your door whenever you need them.
Shop Wild refill deodorant here.
Ways to reduce waste this Christmas
Sustainable wrapping paper ideas
Eco-friendly gift wrap from Know The Origin
Know The Origin prides itself on being the home of a rich selection of certified sustainable and ethical brands. Selling everything from clothing and beauty through to homeware, they've got a great selection of recycled wrapping paper, recycled plastic ribbon and eco-friendly paper tape, as well as Christmas cards.
Shop gift wrapping on Know The Origin here.
Reusable shopping bags from Fat Face
Clothing brand Fat Face are encouraging mindful wrapping this year by creating shopping bags that double up as wrapping paper. Simply cut out the festive design, et voila — you've got yourself some wrapping paper. There's even a section for you to cut and fold to make a tag, which is pretty neat if you ask us. Keep an eye out for other brands jumping on the trend!
Reusable cloth wraps
You may have spotted furoshiki, the art of Japanese fabric wrapping, on social media. It's a smart and sustainable way to dress up Christmas presents, without resorting to single use wrapping. Vintage clothing brand Beyond Retro always has a great selection of preloved scarves that are perfect for wrapping, plus their staff will be on-hand if you need a quick how-to.
Shop vintage scarves from Beyond Retro here.
Food and drink
Oddbox
For families with several mouths to feed, Oddbox is a great way to get your fill of fresh fruit and veg, and do your bit to reduce global food waste. Their USP is rescuing "odd" fruit and veg straight from the farm, whether it's ugly pears, bendy peppers or curvy cucumbers. Your Oddbox is delivered straight to your door on a weekly or fortnightly basis, cutting down the time you need to spend food shopping. A great option for sourcing ingredients for your Christmas roast, plus they do gift cards if you want to spread some wonky veg magic.
Get 50% off your first box or a gift card to the fellow food-waste fighters in your life using the code WHIRLI at checkout.
Shop Oddbox here.
Good Club
No matter how good your intentions, it's really difficult to shop sustainably in your average supermarket — especially when it comes to Christmas with all the trimmings. Thank goodness for Good Club! They're here to do the legwork for you, delivering zero waste and sustainable groceries that help you reduce your environmental impact. They've curated over 2000 eco-friendly brands on their store, 150 of which come in reusable packaging. What's more, you can get all of your household staples with carbon-neutral delivery and collection, helping you save waste, plastic and CO2.
Use the code WHIRLIXGOODCLUB at checkout for £12 off and free delivery on your first Good Club order before 31/12/2021.
Shop Good Club here.
allplants
When you're running from party to party or have spent hours slaving over the main affair, you might find yourself scratching your head over those pesky Betwixtmas meals. As a result, it's tempting to reach for fast food, which isn't ideal if you're trying to have a green Christmas. We recommend turning to allplants, who are revolutionising the ready meal with healthy and planet-kind plant-based recipes, delivered to your door. Stock your freezer with their tasty seasonal menu and put your feet up!
Shop allplants here.
Too Good To Go
If Oddbox has got you acting the hero, wait until you try food-waste-fighting app, Too Good To Go. You can imagine how much delicious, fresh food goes to waste at cafes, restaurants, hotels, shops and manufacturers every day, just because it hasn't sold in time. Too Good To Go allows you to buy this food at a fraction of the price and go and rescue it in a "magic bag" — you won't know exactly what's in your order until you pick it up, which is all part of the magic. Another great option if you're charged with rustling up some food, pronto.
Download Too Good To Go here.
Unwanted gifts
OLIO
Got more festive food than you can shake a turkey sandwich at? The OLIO app connects you with neighbours and local businesses so surplus food can be shared, not thrown away. If you've been gifted one too many boxes of chocolates or overdone it on the mince pie shopping, you can stick it on OLIO for someone in your community to collect and enjoy. You can also use it for non-food household items, making it a good option for unwanted Christmas presents.
Download the OLIO app here.
Dotte
If your Great Uncle Bob didn't get the memo on age-appropriate clothing sizes or Cousin Susan insists on heavy gender stereotyping, head over to Dotte, the kids fashion marketplace. A solution to the alarming rate at which children grow out of their clothes, Dotte makes secondhand shopping for kids' clothing accessible and fun. Depending on the quality of the clothing, you can either sell or donate and recycle.
Fancy swapping a present for something else? Sign up to Dotte using the code WHIRLI and get £5 cash back when you make a purchase.
Sign up to Dotte here.
Depop
For grownups who've also been subjected to ill-advised styles and sizing, look no further than Depop, the global community of fashion buyers and sellers who are making fashion less wasteful. As well as championing the circular economy, they've committed to making Depop carbon neutral by 2021 and provide educational resources and mentorship to entrepreneurs from underrepresented groups.
Download the Depop app here.
Thrift+
If the idea of selling your unwanted clothes is a bit of a headache, Thrift+ makes it super easy. Simply send off for one of their ThriftBags and they'll do the work to sort, photograph and sell your items online. You can then earn credits to spend or donate to charity.
Re-sell on Thrift+ here.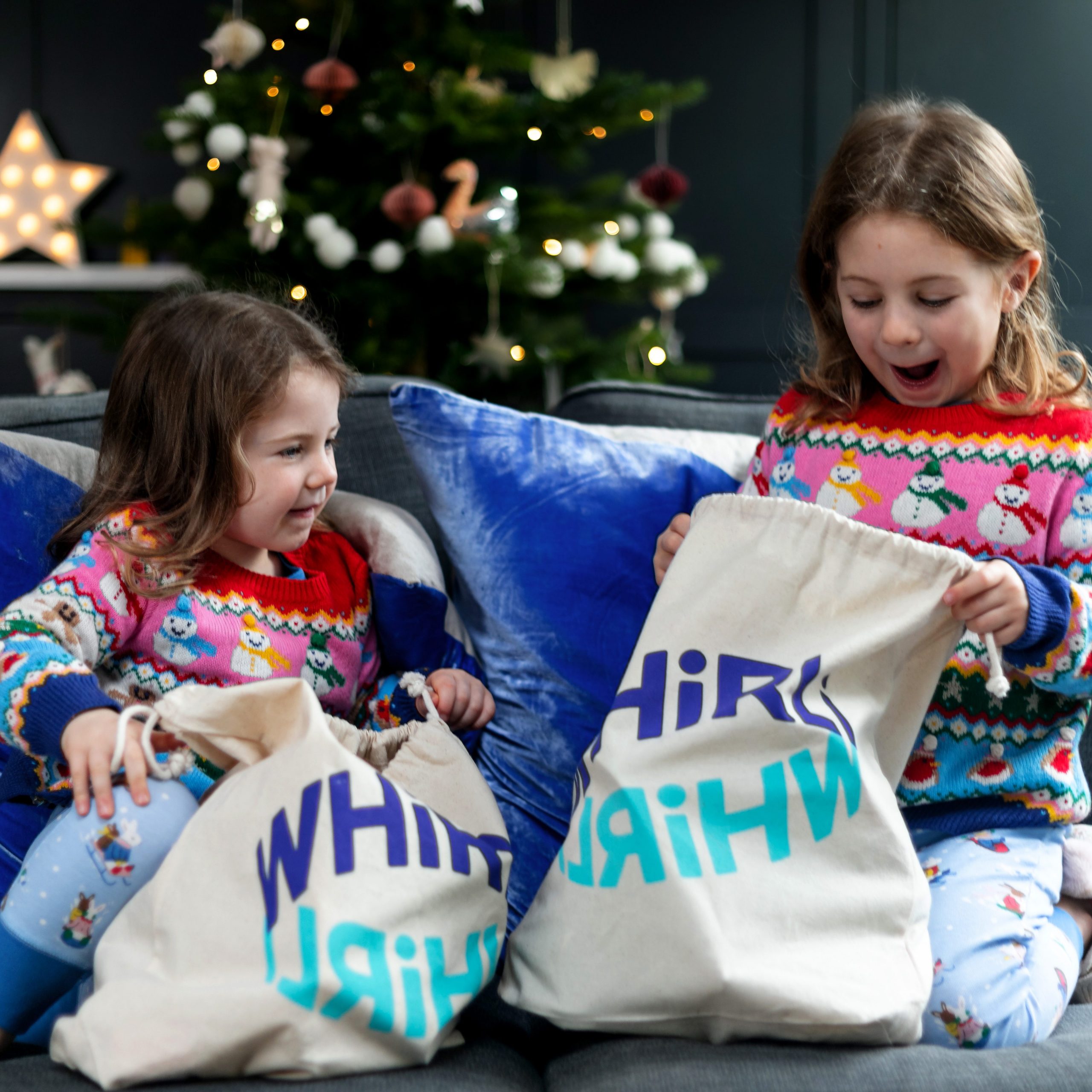 So, what's on your green Christmas gift list? Tag us on Instagram at @giveitawhirli to show us what's under your Christmas tree this year.
Share this article