The weather outside may be frightful, but the humble cardboard box can be delightful. Guest blogger Tami Murray, an Expressive Arts Teacher and mum from Stevenage, shares 10 indoor play ideas using a cardboard box.
When we're stuck inside, it can be a challenge to keep kids entertained. Once boredom kicks in, even the TV can lose its appeal. Finding fresh, off-the-cuff indoor play ideas requires us to think outside the box – or in this case, inside the box!
So here are 10 indoor play ideas that show how a simple cardboard box can become everybody's favourite toy. Of course, your Whirli boxes will be perfect for these activities. We've made sure that all of these indoor play ideas will leave your Whirli box in perfect condition for returns (no cutting or tearing!), so that nothing goes to waste.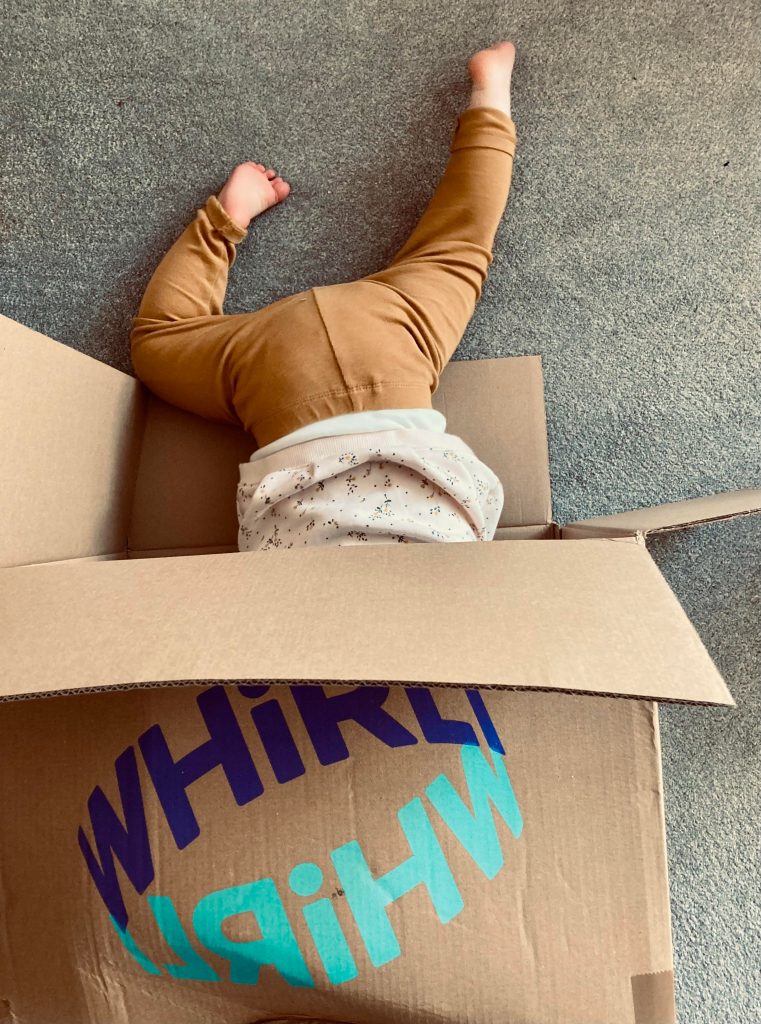 10 easy indoor play ideas
1. It's a classic…car!
Babies know it, kids know it, cats know it: sitting in a box is fun. Being pushed around in a box while the adult makes "brumm brumm beep beep neeeaaooowwng" sounds is also super fun (maybe not for the cat).
A slightly older child may want a fancier vehicle, in which case put a battery-powered radio or Bluetooth speaker in there for an in-car sound system. A paper plate makes a perfectly suitable steering wheel. Throw in a comfy pillow and adorn child with a pair of shades to complete the look!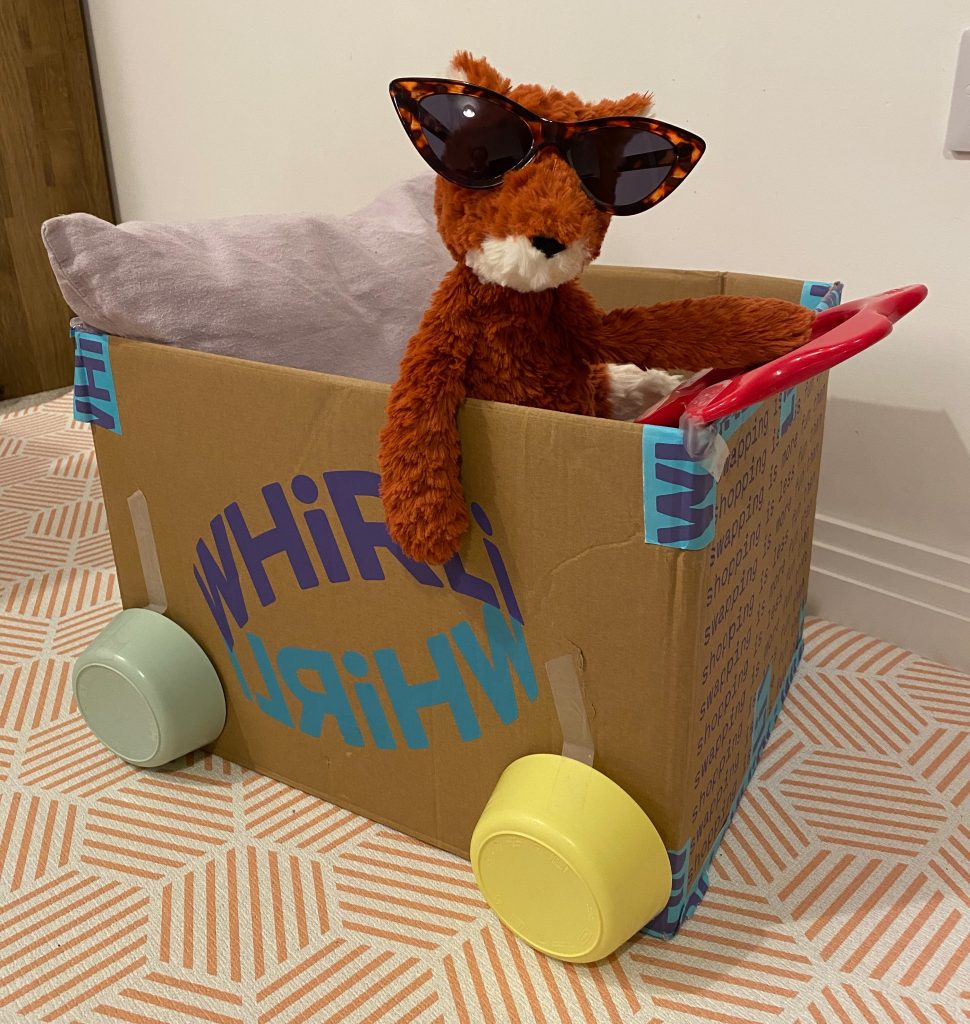 2. Puppet theatre
Puppets help to stimulate creativity and imagination. The use of puppets also supports development of language, listening and communication skills. You don't need fancy Pinocchio-style marionettes or elaborate hand-puppets; any soft toys or dolls will do.
For babies and smaller children, you will be the performer. Don't worry though, you won't need to devise any sort of Punch and Judy epic; just moving the toys is enough. I like to have a bit of happy up-beat music playing in the background.
'Peekaboo' with the toys can incite smiles and laughter. For older children, it can be a great boost to self-esteem for them to perform while the adult/s are the audience. Playing with puppets can also support emotional development, self-expression and social skills.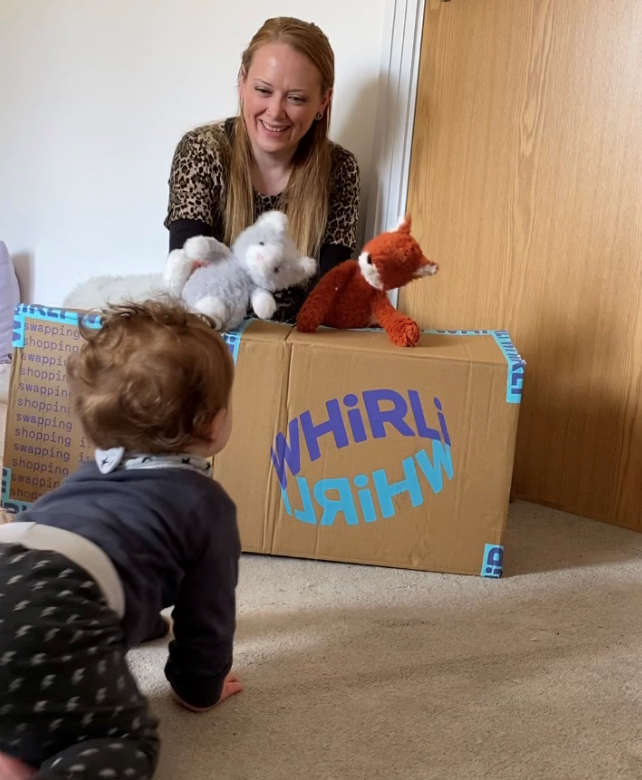 3. Den
There are many ways to use boxes to create a den. Dens can be a place for imaginative play, for sensory exploration, or as a safe space to go and be quiet.
By about three months old, babies begin to understand that their hands are part of them and that they can control those hands. You'll notice more reaching and grasping actions as they develop hand-eye coordination skills. Try laying a large box on its side, then hanging things like black and white ribbons, shiny or light up baby-safe balls and/or chiffon scarves from the top interior of the box. Aim to keep it simple with just a few things so as not to overstimulate or overwhelm the baby.
Lay with baby – heads inside the box – to gaze upward at the hanging items. Just relax, be quiet and be in the moment. Baby may move their eyes and head to look at the hanging objects, or reach upwards to try touching and/or grasping. You can mirror their movements, perhaps echo any sounds they make, and generally just enjoy being with one another in the den.
Remember, babies may only have a fleeting attention span; so don't feel discouraged if they're only interested for a brief time or are easily distracted when you try these indoor play ideas with them.
4. Let's play café!
By age two, children's capacity for imaginative play begins to grow. Role play is very important for children to support learning and understanding of social skills.
As we're learning from these indoor play ideas, a box can become many things with a touch of imagination! Grab a sheet to lay over the box and you've got yourself a table at a café. Children may enjoy using props such as cups and plates, but miming can be fun because then there are no limits.
For example, if your child has an understanding of how cafes work and a relatively good grasp on language, you could pretend to be their customer who orders various food and drink items. You may start by ordering a cup of tea, then go a bit left-field and order a giant ice-cream. Take it further by pretending that they've got your order wrong.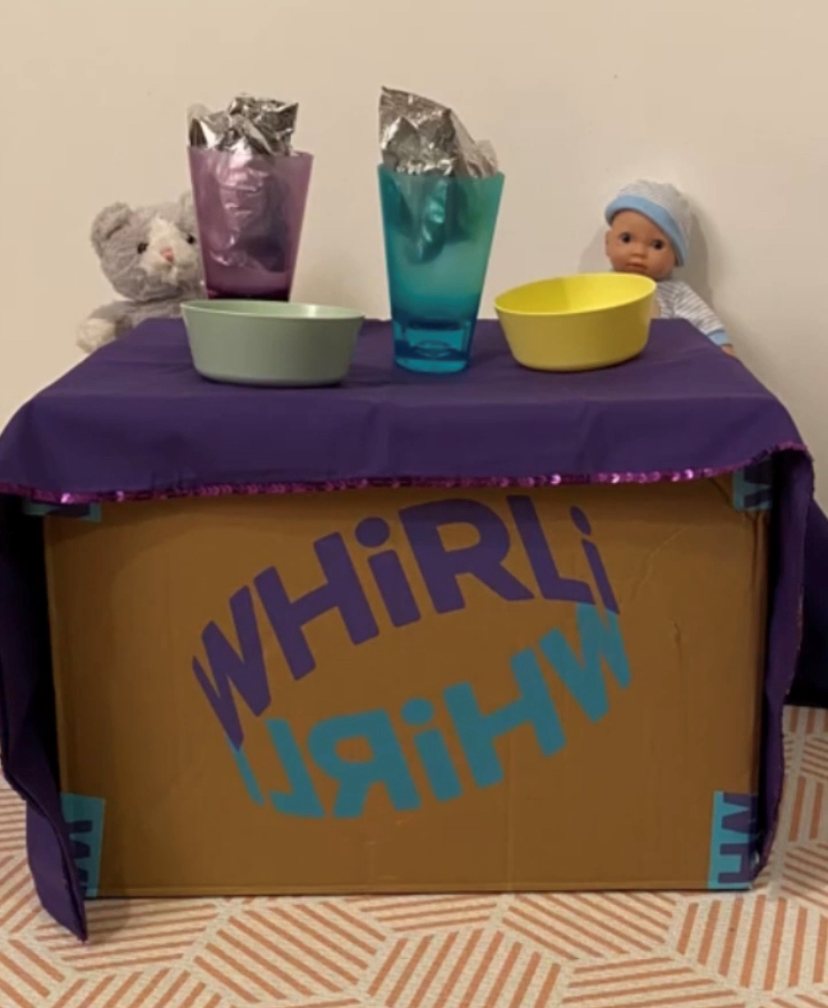 5. Drum
Use your hands, use drum sticks, use wooden spoons…whatever you use to tap your beat, drumming is a fun way to interact and experience rhythm. You may choose to tap along to some music; in which case, it's good to choose something with a clear beat. For older children, you could try copying one another.
6. Tunnel
No need to spend money on a pop-up play tunnel or other indoor play ideas that take up lots of space. Simply open up both ends of a large box and you've got an instant tunnel. You could try linking boxes together, adding obstacles, pretending you're going on an adventure, or pretend to get stuck and the child has to help get you out (just be careful not to actually get stuck and ruin your Whirli box!).
7. Treasure chest
What's in the box? is a super fun and simple game for children of all ages. All you need is a box and a bunch of random stuff. It could be a themed treasure chest; for example: everything in the box could be yellow, shiny or noisy.
A current favourite for my 11-month-old teething son is a box full of chewy toys. You may choose to allow your child to freely explore the contents of the box at their own pace. Enjoy interacting with the child and follow their lead. Alternatively, you could take out one item at a time. This works well as a turn-taking game. It can also be a helpful way of working on language skills: for babies and toddlers, try filling the box with items of fruit, toy animals or everyday objects. Name each item as it's taken from the box; for example: 'spoon', 'green apple', 'cat'. Allow plenty of time for exploring each item.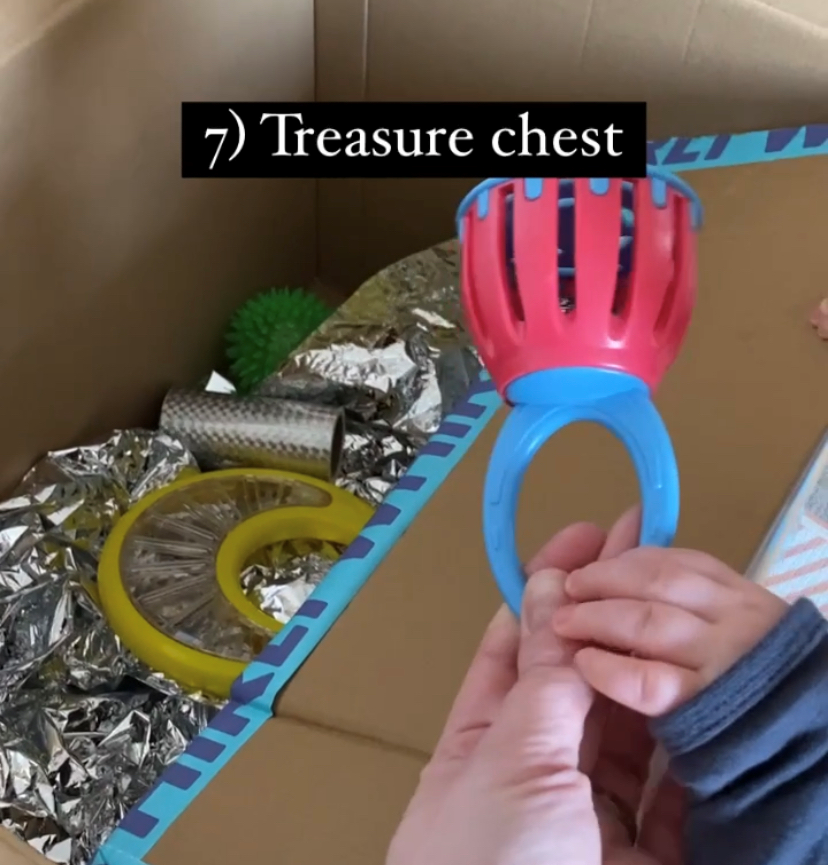 8. Goal
Time to work on those gross motor skills, get a bit of exercise and nurture confidence. This game is easily adapted for varying ages and abilities. It also works in different spaces and situations.
Throw, roll, bounce, kick, or place objects into the box. If you have multiple boxes, you could try sorting different colours, sizes or shapes into the boxes.
A super simple and super entertaining indoor play idea – not to mention embarrassing when I realise my aiming ability is lacking!
9. Canvas
You don't need an expensive easel or fancy artist's pad to create an artistic masterpiece. Generally speaking, the walls, floors and the cat are NOT acceptable canvases for our children's decorative designs. A cardboard box, on the other hand, can work very well indeed.
For one thing, when little ones get a bit overzealous with the paint, it won't seep through card in quite the same way as those soggy bits of paper. You could decorate a 3D box or lay it out flat on the ground/table. I like to lay a box out on the ground, paint our feet and walk across it. Try various materials too, like paint, pens and crayons.
Just because a box has been decorated, doesn't mean it can't be reused for returning those Whirli toys. I'm sure postal workers, delivery drivers and warehouse operatives will enjoy our little ones' artwork on their rounds! And if your Whirli box gets reused for another family's order, it will put a smile on even more faces.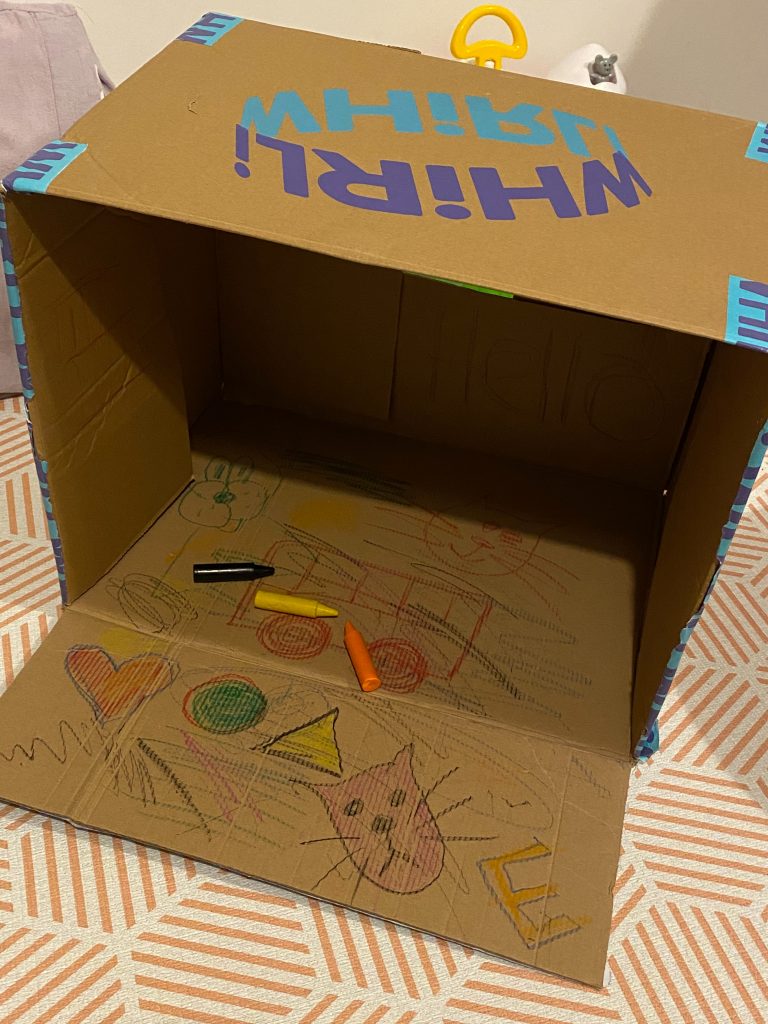 10. Giant stacking blocks
Many skills can be honed and developed from simple stacking and tumbling games. Using cardboard boxes, of any shape and size can be a safe and fun way to play these games on a big scale.
I love watching the anticipation in my son's face as he nears the tower to knock it down. I can't help but giggle because he squints his eyes just before pushing the boxes. I can imagine he's thinking 'will it fall over? Will it fall on me? What will mummy do?'
This activity develops interaction and communication, taking turns, anticipation, gross motor skills, and numerical skills. Try counting as you or your child stacks the boxes: countdown 3, 2, 1 before knocking down the tower, or say 'ready, steady, go!' (or just 'ready, steady…' then the child can say 'go!' ).
Hang on to your boxes for simple indoor play ideas
These indoor play ideas are just a few examples of how a box can be the best toy for all ages and stages. None of these activities involve destroying your boxes, so you'll still be able to swap your Whirli toys without having to scour the loft for spares.
So next time you get that delivery, don't fling the box into a cupboard; instead, try out some of these indoor play ideas, get creative, have fun and give it a Whirli!

Share this article