Whirli's report on toy waste in 2021 is here! 1000 parents from across the UK reveal how much they spent on unwanted toys in Christmas and throughout the year in 2021.
It's been a month since Christmas and it's time for the moment of truth: how much did we spend on Christmas toys for our kids this year, and how many of those toys will go to waste?
Just over two weeks after Christmas, we surveyed 1000 UK-based parents of 0-8-year-olds to learn more about toy waste following the festive season, and throughout the year in 2021.
We conducted the same research in 2019, so we were particularly interested to see what, if anything, had changed since then. As you might imagine in a world that has seen considerable change in the past two years, the results pointed to some significant shifts in our consumption habits.
Here's what we learned.
On average, each child received toys worth £750 for their birthday and Christmas in 2021
The estimated toy spend per child has gone up significantly since we conducted the same research in 2019. It isn't hard to understand why: with kids spending far more time at home during the pandemic, it's only natural that parents would spend more on ways to keep them entertained.
On average, parents estimated that each child received 22 toys throughout the course of 2021, coming in at a total value of £750 (which works out at £32 per toy).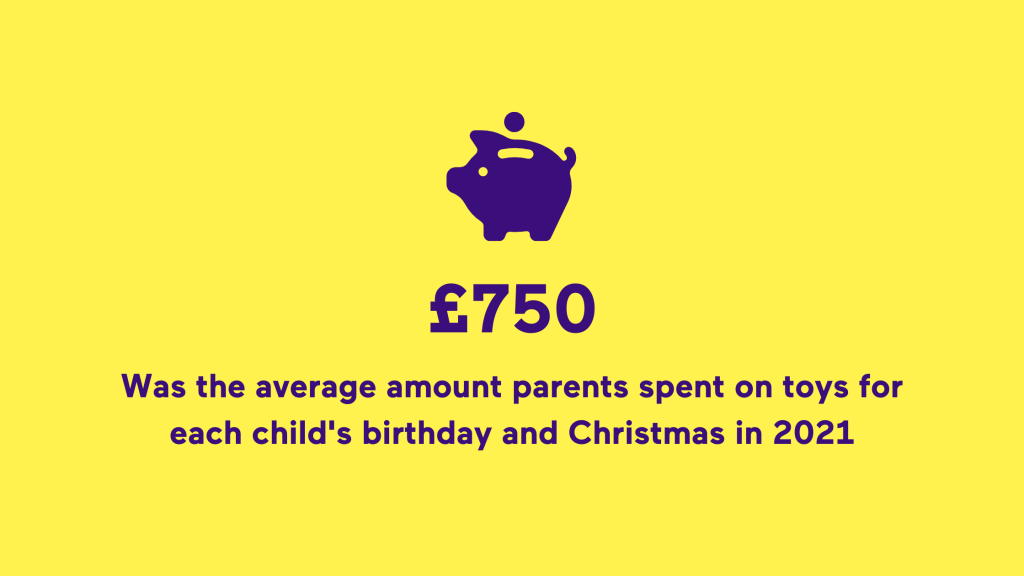 Parents themselves spend an average of £430 on toys for each of their children, breaking down to £180 on birthdays and £250 on Christmas. They estimated that friends and relatives combined spent around £150 on birthdays and £170 on Christmas for each of their children.
Over half of parents say that one or more of the toys gifted to their child was unwanted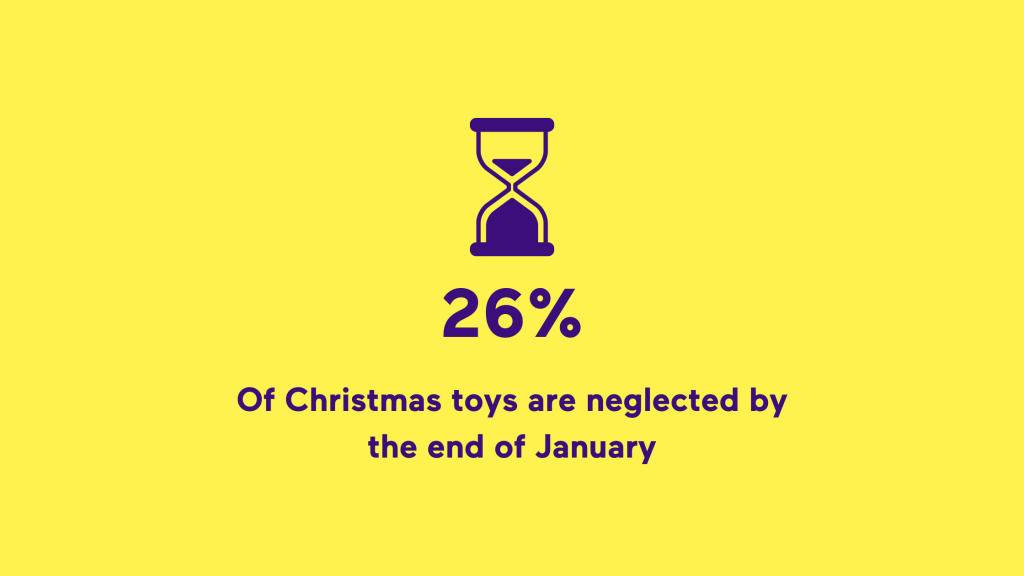 Of the average figure of 22 toys each child received in 2021, only 43% of parents said that all of them were wanted. 57% of parents said that one or more of the toys gifted to their child was unwanted for the following reasons:
The toy wasn't age appropriate
The toy was a duplicate (i.e. the child already had this toy)
The child didn't like the toy
The toy did not fit the parents' ideals or ethics
The toy was too gender stereotyped
We're already visualising all that clutter (and garish pink plastic) piling up, and we haven't even got to the most shocking part of our toy waste report…
In the UK, an estimated 25 million Christmas toys are neglected by the end of January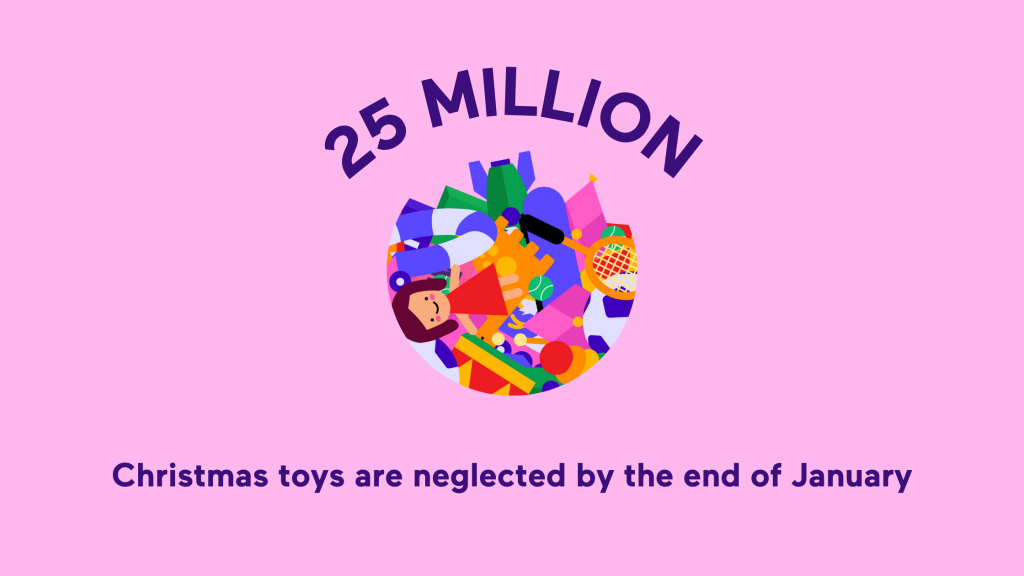 Parents estimated that each of their children received an average of 14 toys under the tree this Christmas. Yet a sizeable 26% of these toys are already neglected by the end of January. This rises to 40% three months after Christmas, and 66% by summer. What's more, 13% of these toys are never played with. And that's just the tip of the iceberg…
In the UK, over 120 million toys are neglected over a year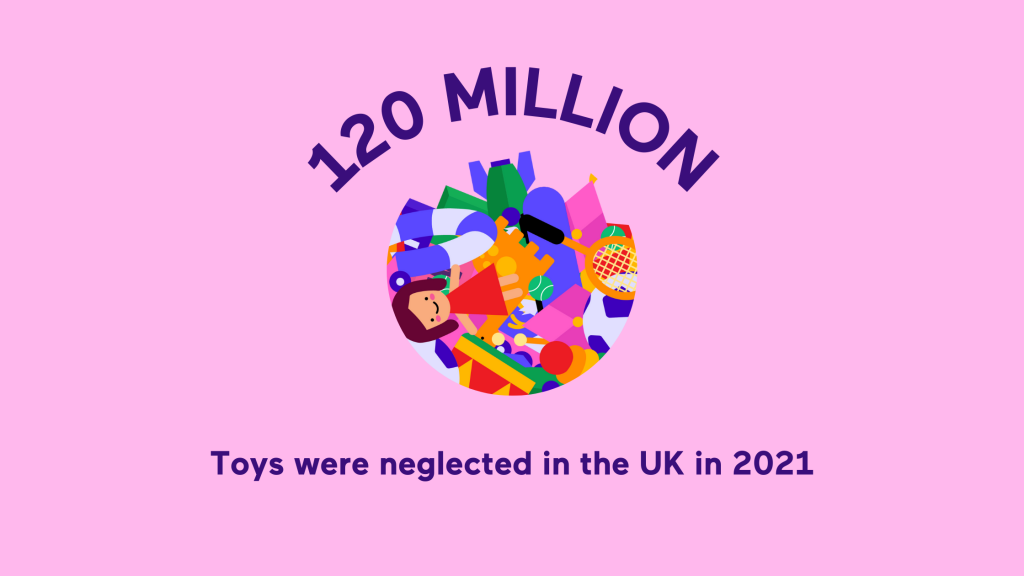 When we look at the year as a whole, over 120 million toys are neglected across the UK. Shockingly, parents confessed that of all their children's toys, nearly 20% had been neglected in days and nearly 10% were neglected within a matter of hours. After one year, 77% of toys were estimated to have been neglected, with only 23% still being played with by their children.
Pretty staggering, isn't it? Which might leave you wondering…
How can we spend less and waste less in 2022?
From our research, we've seen that an incredible amount of money is wasted on toys. On top of that, toy waste has some big implications on our lives and livelihoods. Not only is it a pain in the neck (quite literally, if you trip over them!) to have so many toys cluttering up our homes, but it also ramps up plastic production and waste in landfill – two things most of us strive to reduce in order to build a better future for our children.
At Whirli, we're on a mission to transform toy consumption by swapping instead of shopping. Our business is built on the circular economy, creating a shared library of toys that parents and children can borrow and return whenever they want.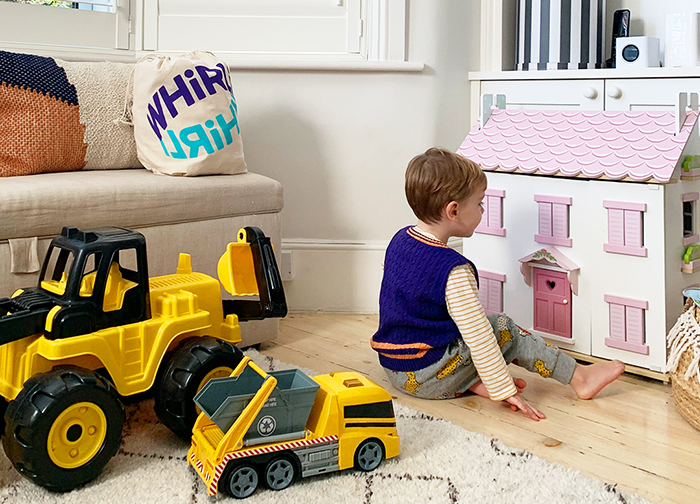 When you sign up for a Whirli subscription, you're given a token allowance that lets you rent toys from our library of over 1000 must-haves. You can choose toys to be delivered to your door and keep them for as long as you like (including forever, if you have the toy long enough or buy it back from us at a discounted price). Once a toy is no longer loved, you can simply return it to Whirli for another child to enjoy, then swap it for something "new".
Tokens let you borrow toys worth four times as much as what you pay, meaning parents have saved thousands of pounds renting with Whirli. And for that percentage of toys that are neglected within a few months, days or hours? Our swapping service eradicates the problem of toy waste by letting you return them.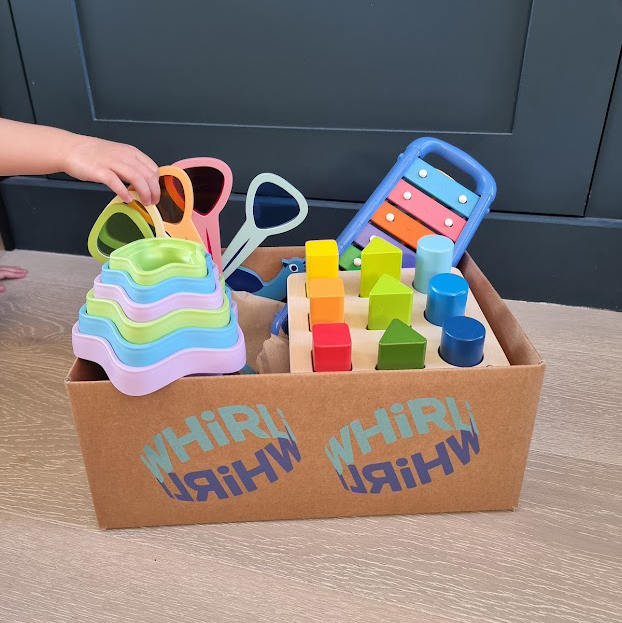 Join us today to get more for your money, cut down on clutter and "shop" more sustainably. Who knows? If more of us start borrowing rather than buying, our next round of research could look very different indeed.

Share this article